Student Blog: Springboard Danse Montreal
July 9, 2018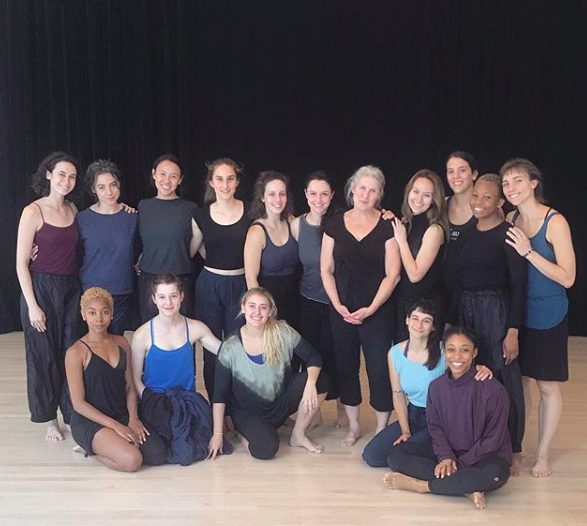 I can't remember when I first heard about Springboard Danse Montreal, but it's been floating around in my head for years as the summer program; an untouchable, exclusive, high-caliber, career-defining experience. Naturally this fantastical conceptualization made getting in and finally attending the program feel ridiculously incomprehensible. Even after I've returned I can't believe it happened and still need time to come back into my body, but I'll put the star-struck romantic in me to rest in order to share what actually happened the past three weeks.
Stepping into self with Margie Gillis
I got off the plane in Montreal knowing I was ready for a corporeal evolution, and I assumed this artistic rebirth would come from doing one of those cool contemporary pieces—you know, with the intricate gestures and theatrics to German electronic dance music. I instead would receive everything I wanted and more from working with Margie Gillis.
I was one of fourteen women casted in Margie Gillis' piece at Springboard. After 45 years as a solo artist, Margie carries infinite knowledge in her brain and insurmountable wisdom in her body. She's eloquent, hilarious, defiant, loving, compassionate, honest, warm and fuzzy. She began our process by saying that her only concern was that all 14 of us be seen. She said that at a month shy of 65 years old she couldn't care less if the choreography was "good," she just knew it was important for the audience to see us. By the third week of working with her, we all realized that Margie didn't just mean see us dancing; she meant see us being our highest and truest selves. For this reason, our piece became the most defiant thing I've ever done. I performed as my whole self on stage in front of 500 people at Springboard Danse Montreal. Margie had us present every emotion from ethereal and joyful, to bitter and witty to sexy and quirky. I don't know how she was able to pull that out of us all; but it's Margie, so magic was definitely involved. It was such a gift—not only to explore this emotional range for myself, but to share it with an audience without fear because I was secure in who I was.
Part of what made our journey so memorable was the emotional character arc the process put us through individually and collectively. There were days of frustration, fear, anger, confusion, skepticism and self-loathing but also excitement, understanding, compassion, humor and enlightenment. Margie would always tell us to let the emotions come and then let them change, and that's exactly what happened. Every new emotion brought us to a final consensus of immense gratitude for the 27 hours of a lifetime. I became so fearless so fast with Margie's mentorship at Springboard, and even though I'm young and spry and thought I only wanted to do some visceral and impressive contemporary choreography, I couldn't care less that my Springboard experience looked different than that. I got exactly what I needed at this time in my life. I will have the skills she shared with us forever and I will teach with her values and methodologies in mind. Margie Gillis and I crossed paths at just the right time. As her amazing assistant Susie Paulson said, "to know Margie is to love her."
Creation and exploration with slowdanger
I can't finish this blog without mentioning my Springboard emerging choreographers Taylor and Anna, co-founders of slowdanger. They are some of the most daring and curious performance artists I've ever met, and possibly some of the sweetest people I've ever met as well. Despite their artistic brilliance they were also super goofy, quirky and hilarious. I found myself seriously laughing nearly every rehearsal at least once and just sharing the space with them was joyful. One of the things I found deeply special about their work is that they make their own music. This multilayered focus of artistic disciplines was enriching to be around everyday. Taylor and Anna beautifully modeled what a cohesive collaborative partnership looks like, as they were respectful of the creative minds of one another as well as of ours. They took the time to connect with us as dancers and people and continually thrived off of our feedback. In this way, the process felt like a product of all of us. They were such a pleasure to get to know as they lived so freely in their authentic selves. Every rehearsal with them was more inventive than the one before, and it was exhilarating to see the collective vision unfold into what would eventually be their installation work in the lobby of Usine C.
The sum total of these two experiences has forever changed me. I'm transformed and filled to the brim with joy.