Student Blog: Thank you, Paris
June 5, 2017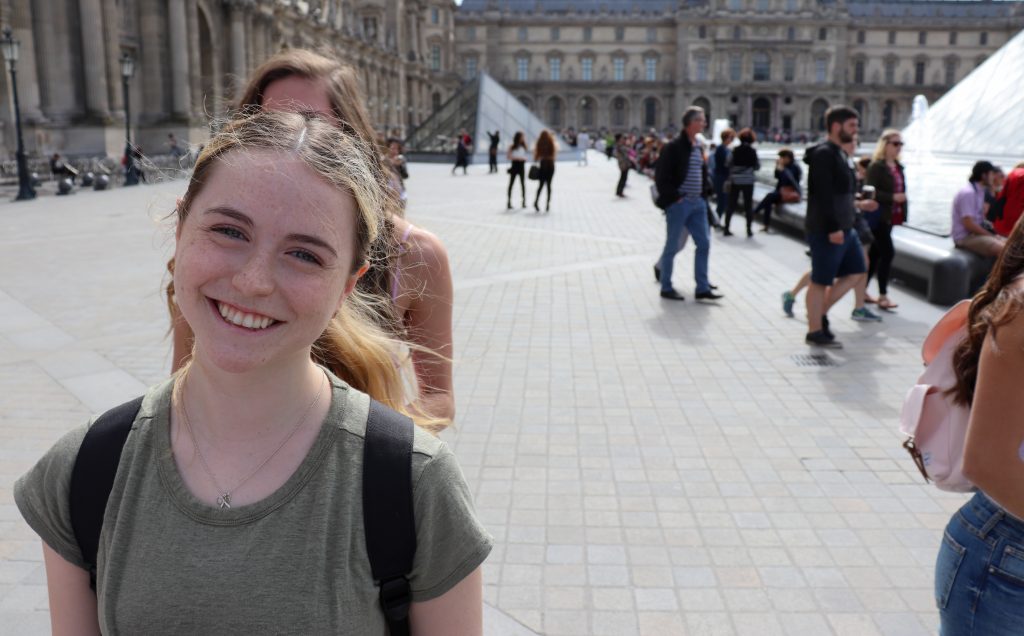 As I'm writing this, I'm sitting on a plane headed back to the States, and leaving one of the most special cities in the world, Paris. I can't truly say that I'm only happy or only sad to be leaving, but I am sure that I'm feeling grateful. Grateful to be chosen to be a part of the program, for the opportunities that USC opened for us while on the trip, for the company of the 19 fellow artists these past weeks, and most of all, for being able to witness so much artistry during my time there.
Omnipresent art
Never have I experienced such a strong presence of the arts in a city; in Paris, there are copies of famous works of art found in le Musee D'Orsay and le Louvre lining the walls of the airport, for heaven's sake! I challenge you to think of a single artful thing in the airport closest to you. There's just something about the city which seems to welcome artists with open arms and encourage them to start creating. It's clear that I'm not the only one who feels this way, as we were lucky enough to witness what past centuries of artists in the city of Paris have been inspired to produce. There were stain glass windows that made me cry, dances that left me breathless, and sculptures which sent me into spirals of deep thought.
In the midst of all of this creativity, it felt insane to not be dancing every minute of every day. However, during certain moments of the trip, we dancers found space to express ourselves in the best way we know how. One of such moments was in a hidden corner of the gardens of le Chateau de Versailles, when we decided to improvise in our normal clothes, which meant a denim skirt for me. It felt so satisfying to move and let out the creative juices which had been brewing since we began classes, regardless of the less than usual circumstances. Similarly, when putting my final project together with fellow dancer Brendan Evans, the movement appeared to flow out of us seamlessly. We created movement phrases based upon places, pieces, paintings and sculptures that we had seen. Though this task appeared arduous on paper, it was one of the easiest creation processes I've ever gone through, due to the sheer number of awe-inspiring things we had seen.
Our own creations
As such, our experience in Paris didn't feel complete until we were able to share our final projects on the last day of class. Had we not shared at the end, I think I may have burst from all that was inside me, and I think almost everyone else would say the same. The showing was one of the best student performances I've ever seen, in both music and and dance. We all had so much to share. In many ways, I think the showing was made even more meaningful than usual because of what was driving the movement. Just as the great artists of the city did, we took in what those before us created and attempted to build off of their legacy. The dancing was not just dancing, and the playing was not just playing; there was much meaning embedded within our offerings. It felt intensely fulfilling to be giving back to the generative, creative wheel that Paris had offered us, and to share all that we had learned with family, friends, and Dean Cutietta and Mrs. Kaufman, who unbelievably and generously flew in for the showing.
I'm going to miss the Parisian life that I led for the past three weeks. Picnics by the Seine, walks around the cobbled streets, watching the sun set at 9PM, and an independence and an ease to life. I'll also miss the new friends that I made from Thornton… I'm looking forward to running into some of them on campus. More than anything, I hope that we will be able to collaborate with each other next year, to continue the legacy that we started back in the studio of Elephant Paname of Paris.
Paris, I'll be back, and I'm prepared to be inspired by you even more.