Student Blog: The campus experience
March 20, 2017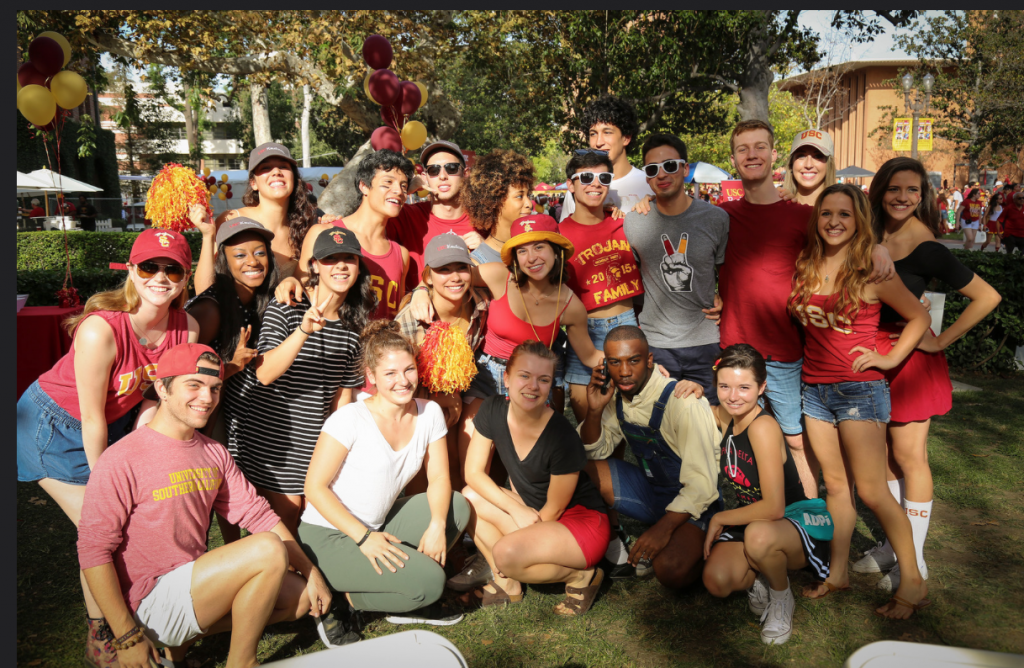 Coming to USC Kaufman was a totally unique experience for me. Previously, I attended a performing arts high school, and couldn't even tell you what football was. Dance was my entire life. When it came time for me to choose a college program, all I wanted was to be somewhere rigorous, challenging, and intense. I thought that meant a conservatory program was my only choice. But Kaufman offers something that no other program in this nation does: the opportunity for an intense, challenging conservatory program paired with a regular college experience.
I never thought I wanted a real college experience, but the opportunity to immerse myself in it has actually made me a better dancer, and I couldn't be happier. I have had the ability to live real life experiences that I can actually connect to my dancing, which in turn has made my artistry richer. I never got a chance to experience anything remotely close to a real high school or college experience, but coming to USC allowed me to feel like a normal person and have that experience I've always dreamed about.
Social life and sororities
This experience is paired with the most prestigious and rigorous dance program ever. I really couldn't dream of a better combination. I attend my dance and academic classes during the day, but then I am able to come back to my sorority (where I currently live and have dinner with some friends), have a gigantic movie night, attend an invite or a date dash, go to a football game or even go on a hike. There is always something to do, and it is so easy to find the perfect balance of normal life and rigorous training. Through my sorority, I have met an amazing group of girls who have become my fan club at Kaufman performances and who constantly support and encourage me. It has been the best outlet outside of dance and a place I can go to de-stress from the craziness that comes with being a dancer. The reality is, dance can be incredibly stressful at times, waiting for casting, auditioning for a part, or making the deadline on a choreographic piece.  Having a normal experience has allowed me to just be me!
Finding my niche
Here at USC, everyone has the ability to explore just about every single interest they may have. If you want to experience college athletics, or join a salsa club, or do community service, the options are all here for you–and they are all endless. I took advantage of being in a sorority and I wouldn't have it any other way. There are so many unique people on campus and it has truly been something special to expand my network to meet future collaborators or dance supporters. Even the dorms here are set up in a way that totally allows you to meet as many people as you possibly can. Everyone's doors are open, and the school creates such a welcoming and comfortable environment. I've met some of my best friends by just walking into their dorm room on the first day of school. There are endless classes, endless clubs, and endless ways you can involve yourself into the amazing life of USC. You get to find your own fit!
People in Kaufman are involved in lots of different things outside of dance. One of my classmates started a collaboration club at USC for all artists, while another one of my classmates is social chair in his fraternity. USC is a school with the perfect balance of academic, dance, and social experiences. At USC, you get to be a dancer, an artist, and a college kid.
Cheers to school spirit
My personal favorite part of the USC experience is hands down the football games. Everyone dresses up in their favorite USC gear, song girl skirts, knee high socks, hats, or even fanny packs. Kaufman holds its own taco tailgate during Trojan Family Weekend, so that we can all join in on the USC spirit. Not only are we a family in Kaufman, but also we are a family at USC. The band is incredible, and you can't help but throw up your victory sign and sing along. I never thought I would care about sports until I got here. I felt the spirit and the family that this school creates. Now I'm the girl fighting on, and screaming, "touchdown!" with my Kaufman family next to me in the stands, even though I still have no idea what exactly is going on.
The most surprising thing about the USC college experience is how incredibly unique every student is. Branching out of Kaufman and meeting people who are non-dancers has allowed me to meet some of the coolest people I never would have had the opportunity to meet. It is truly inspiring and has encouraged me to be a well-rounded individual. Each and every experience has been something I have been able to connect to my dancing. It is so amazing that a school offers this. This is the only time we can be normal people while still training like the professional athletes we are!