Student Blog: Tomer Heymann's "Mr. Gaga" film through our eyes
February 13, 2017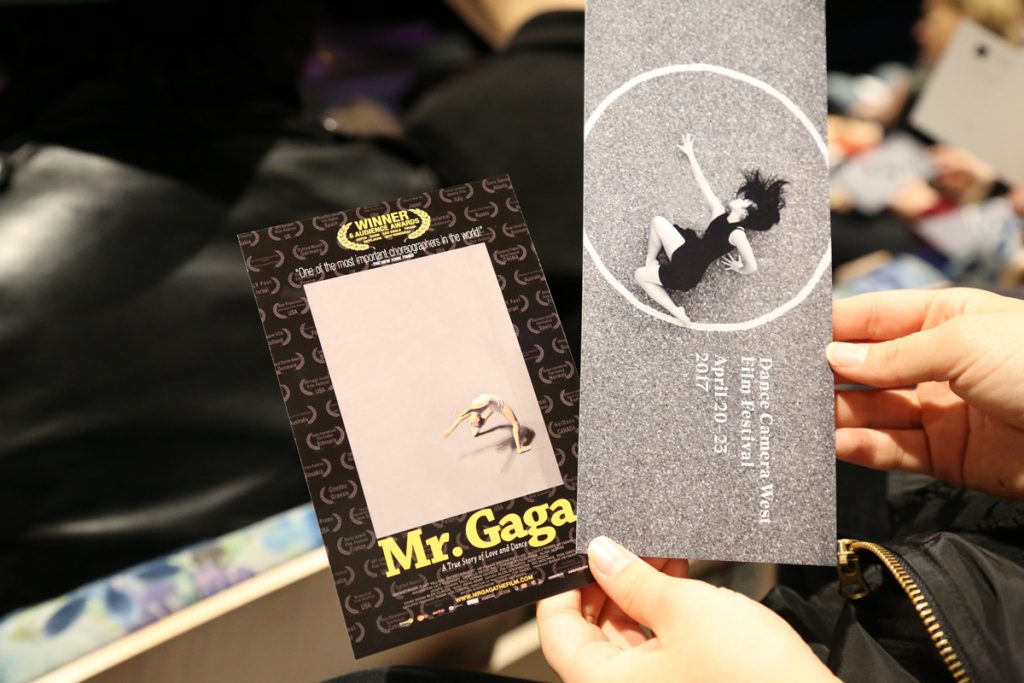 If you haven't already heard, "Mr. Gaga," a film by the Heymann Brothers, has finally opened in the United States. This is super exciting–we have been waiting months for it to travel through places like Israel and Europe to us in California. Personally, I am so obsessed with the Gaga language that I've been tracking the film's progress through Kickstarter campaigns, trailers, etc. impatiently for over two years now. Here at Kaufman, we were lucky enough to have the opportunity to see it screened in our own building this past week, in addition to hearing the director Tomer Heymann speak about his experience making it.
This film is a marvel, documenting the processes of Ohad Naharin over the span of eight years with grace and intensity. As I was watching, it struck me how much the film was a reflection of the Gaga language it was highlighting; embracing the inherent conflict that Gaga thrives upon. By featuring bold shots as well as softer, delicate ones, and throwing old footage in the mix with recent footage, fuzziness contrasts stark clarity, and Tomer cleverly frames his subject in a way that introduces the audience to Gaga in more ways than one.
As a lover of the Gaga language, I was exhilarated and truly moved by the journey of Ohad that the film took me on. It all felt very personal and intimate, taking away many of the preconceptions that I had of Ohad's identity and showing him to us without pretense. After seeing the film, I felt like I gained a new outlook on dance and a better understanding of Ohad's approach.
This realization that I had after watching the film reminded me of having a similar moment after spending a few weeks with Bill Forsythe. In fact, much of the material in Mr. Gaga prompted me to think about how we identify a genius. All I can say is that Bill and Ohad appear to be geniuses in their own right in every way to me. In Tomer's words, "Ohad is not a superhero," only someone with a beautiful mind. Regardless of whether you're a dancer, only know of dance, or have never seen dance before, this film is a must-see. It was made for all art lovers, all humans, all of us who wish to see a master at work.