Student Blog: USC Kaufman in Japan
October 9, 2017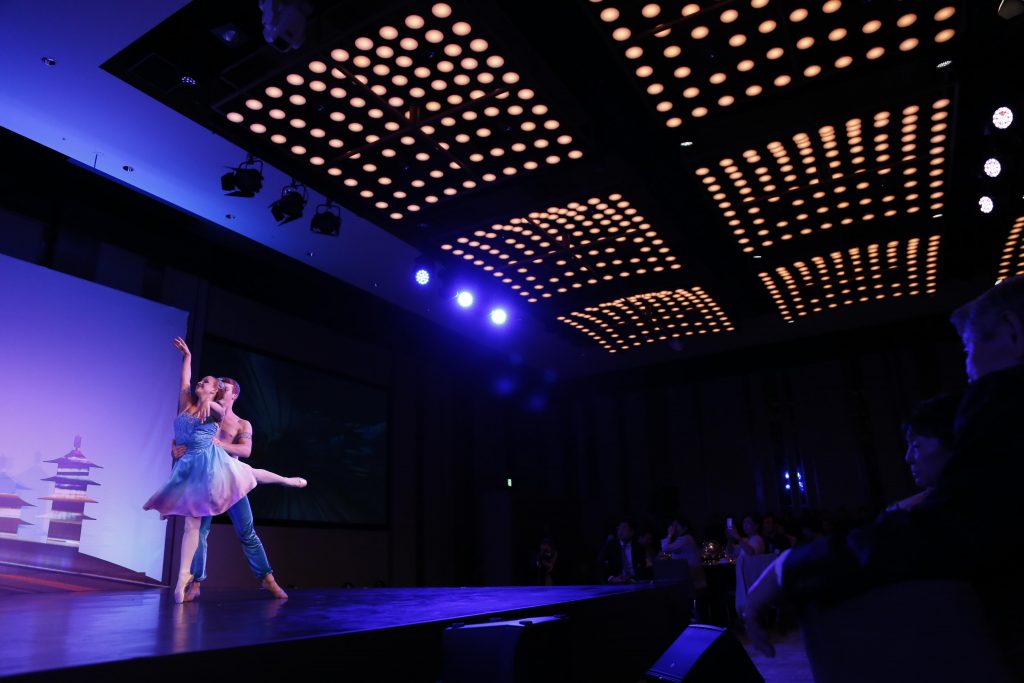 I'm still processing last week's USC Kaufman trip to Tokyo. This was my first time out of the country, and I wasn't really sure what to expect. It was completely new and exciting, frightening, and exclusive, but highly informative. In Japan, I had the experience of being a foreigner, where everyone was included in the conversation of the country's culture, while I was an outsider scanning the periphery.
Cultures in tandem
I made sure to do a lot of people-watching in attempts to understand how immensely different our walks of life were. I saw and took pictures of too many cute babies and often just stood on the sidewalk taking in the fact that I was across the world from my own home. However, as different and new as everything was, it oddly still felt familiar. The kids acted like kids, everyone had a cell phone, the cities were busy and exciting, subways were congested and there were advertisements everywhere. The city, of course, had its nuances, and it was very different than Los Angeles, but there was an obvious continuity. And though it was the first time I had traveled across the world, it made me wonder if world travel didn't equate to going into completely different universes, but to experiencing different versions of a similar framework that every space and place abides by. There are always families, shops, businesses, curriences and cultural nuances that keep the wheels turning. Certain countries experience wildly different circumstances than others and have different access to resources than others,  but anywhere I go, I think I can always expect to experience humanity and culture.
Dance as communication
This was my ultimate takeaway from my five days in Japan, and one of the things that helped me understand it was dance. Watching Vice Dean Gate's master class with Japanese students made clear the whole idea of dance as a universal language, and I really think you don't get it until you experience it. She taught them repertory from William Forsythe's In The Middle, Somewhat Elevated, and it was wild to see it happening on their bodies and remembering how it also happened on mine. I didn't know any of their names, and we wouldn't be able to communicate verbally, but I knew if I was dancing with those girls I'd feel comfortable and at home; what a gift dance is, in that it has this incredible ability to unite people. I also wanted to experience this feeling with the huge hip-hop scene in Japan. Hip-hop is the perfect place for unifying bodies, despite background, nationality, race, etc. But unfortunately my search for a hip hop club was ill-fated and I wound up somewhere completely different that only played hip-hop music, and had no hip-hop dancers… Next time I come to Japan, that will be the first thing on my list.
Finally, having the chance to perform at the conference was magical. The alumni and other attendees were so happy to have us, and President Nikias and his wife were our biggest fans.  Though we didn't get to show all the styles we train in at Kaufman, I'm glad we could still have a presence at such a highly revered USC Global Event. I think the people at the conference were at least further exposed to dance as something worth majoring in, something that matters, and something that deserves the type of respect any other field of study has at USC.  Before I finish this blog, though, I definitely have to say thank you to Vice Dean Gates. We rehearsed with her nearly every day before we got to Tokyo, and while we were in Tokyo and she handled everything that went into the production of the performance. One day she taught a full three-hour master class directly after a three hour rehearsal with us, and I don't know how she did it! She was basically super mom to all ten of us for the five day trip and obviously none of it would have been possible without her.
Thank you Japan for having me–it was sublime.