Student blog: USC Kaufman minor experience
November 28, 2016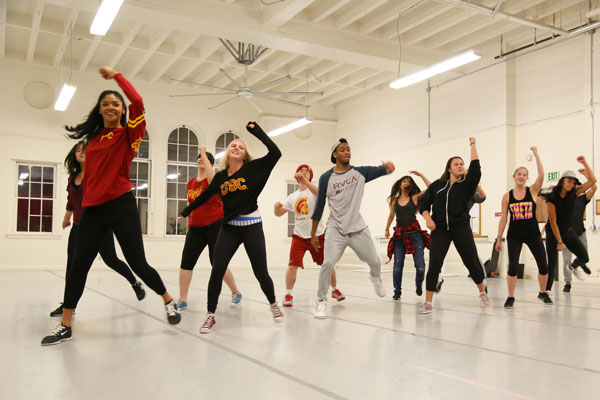 By Yifei Yu
I started to take Kaufman's course in the fall 2015 semester, when Kaufman's main building was still under construction. Even though I had to dance in the basement of Alfred Newman Recital Hall before the building was finished, I was thrilled by how professionally dedicated and enthusiastic USC Kaufman faculty members were. That class I took a year ago was DANC-1895A Hip-hop Dance taught by Professor Durden, whose expertise on certain dance forms still amazes me every time I think about African American social dance.
I have been pleasantly surprised by USC Kaufman, not only because of its wonderful faculty members, but also its state-of-the-art program itself. One of the lecture dance classes I'm taking right now, International and Historical Perspectives on Dance, provides me detailed description and analysis of ballet, modern and contemporary dance. Such systemic theory training serves as a critical complement to my dance technique class, as the knowledge behind dance movements are as important as the dancing bodies themselves. My understanding of dance thus becomes 3-dimensional because I am learning both techniques and how techniques were conceived by predecessors in the first place.
So far my dance minor degree progress is only half completed, which leaves a lot of room for me to improve in the future under this top-notch dance education institution–Glorya Kaufman School of Dance at USC. The high quality dance education that I have received so far only opens up more questions. I can only say I'm joyful to see how much potential that I have and how much I can and will achieve in the future with dedicated faculty members and talented fellow dance major and minor classmates.
Keep On Dancing!