Students learn Aszure Barton's 'BUSK' for Fall Performance
November 7, 2017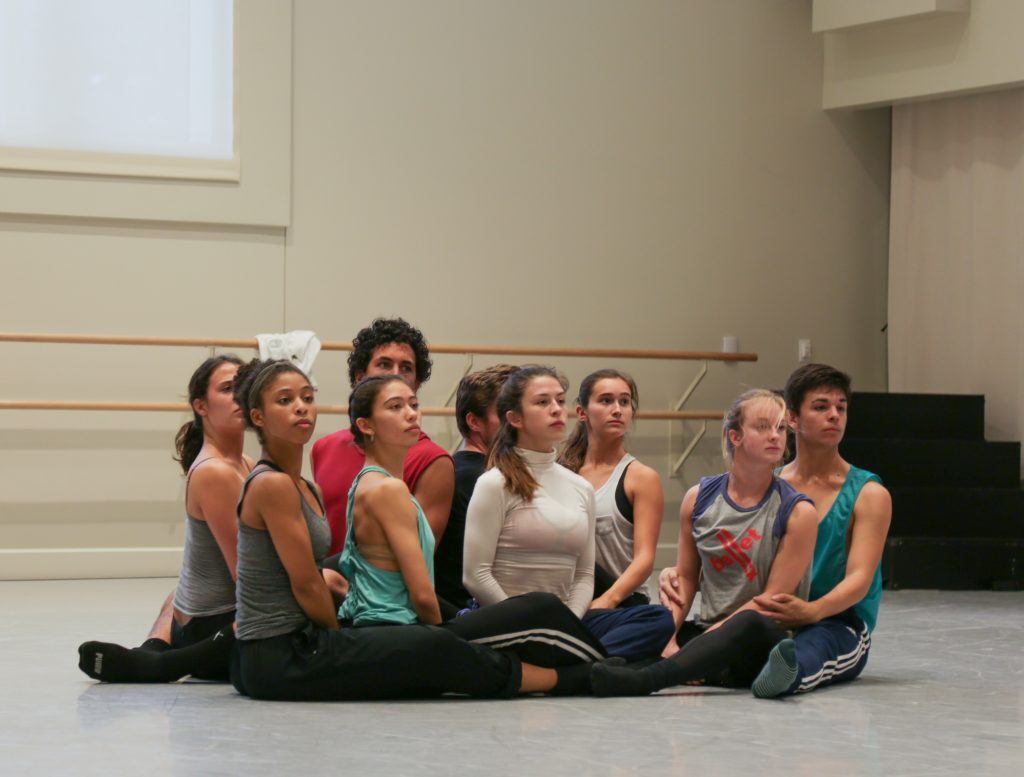 USC Kaufman continuously strives to provide students with invaluable experiences that cannot be found anywhere else. One such experience has been having world-renowned choreographer, Aszure Barton,  on-site to set excerpts of her piece, 'BUSK' (2009) for the Fall Dance Performance.
From October 16 through November 4, Barton, accompanied by stager Jonathan Emanuell Alsberry, joined the Kaufman family to cast and teach excerpts of 'BUSK.'  The piece touches on Barton's own vulnerabilities on stage, as well as the exploration of performers' needs to put themselves on display. The cast for the fall performance consists of mostly third-year students, with the exception of one sophomore. There are a total of 22 students that received the opportunity to learn this piece, and they will be split into two separate casts for the Fall Dance Performance.
"At this point in their training, the goal is to hone the way the dancer approaches the work," stager Jonathan Alsberry explains. "Through 'BUSK' we hope the students gain an understanding of full-bodied efficiency while maintaining an authentic focus and clarity with speed."
'BUSK', refers to the word's Spanish root, "buscar", which means, "to seek" and is set to the music of Slava Grigoryan, August Soderman, Lev "Ljova" Zhurbin, Moondog, and Camille Saint-Saëns.
Barton is among the most promising and consistently commissioned choreographers in dance today. The Mikhail Baryshnikov protégée has worked with an array of honorable companies and artists including Alvin Ailey American Dance Theatre, Martha Graham Dance Company, Bayerisches Staatsballett, and English National Ballet, just to name a few. Hailed by critics and audiences alike, Barton's works have been performed on countless international stages, and have been featured in numerous television projects.
She is the founder and director of Aszure Barton & Artists, an international dance project. Barton has also been an artist in residence at The Baryshnikov Arts Center in New York City and The Banff Centre in Canada. In 2009, she was proclaimed an official Ambassador of Contemporary Choreography in Canada. Throughout her career, Barton has received countless accolades and honors including the prestigious Arts & Letters Award, joining the ranks of Oscar Peterson, Eugene Levy, Karen Kain and Christopher Plummer. She recently relocated to Los Angeles from New York City where she was based for seventeen years.
Kaufman's Fall Dance Performance will take place on November 14-17 & 19.  In addition to Barton's work, the show will feature USC Kaufman BFA freshmen, sophomores & juniors in repertory from Paul Taylor, George Balanchine, Dwight Rhoden, and Barak Marshall.
---
By Belia Mercado