Ambar Matos Ortiz (she/her)
Columbia, MD
BFA Class of 2025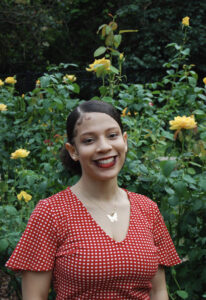 Where did you train?
I was introduced to dance in a small studio near my home in Sabana Perdida, Dominican Republic. After immigrating to the United States, I started my formal training at New Hope Youth Dance Company under the direction of Concha Marchitelli. I studied ballet, contemporary, jazz, hip-hop and salsa through my well-loved and recognized teachers: Valeria Ivleva, Adrian Vincent James, Julika Cuffy, Christine Booker, Ralph Glenmore, Oscar Hawkins, Tiffanie Horner, Robyn Lindsey, Kristen Nicole Jones and Robel Kabtyimer. After eight years in the company, I moved and joined the CityDance School & Conservatory lead by Lorraine Audeoud Spiegler. There, I spent the last few years of my high school career receiving incredible instruction from the teachers and faculty, including Diana Amalfitano, Keith Lamelle Thomas, Robert J. Priore, Marie Renee McNair, Kaitlin Madzelan, Sarah J. Ewing, Alicia Canterna and Tariq Darrell O'Meally. I am extremely thankful to all the teachers I got to take class with as each and every one of them have guided and led my journey of movement, creation and artistic abilities.
What inspires you?
Being in the presence of passionate individuals who strive for their own dreams and aspirations inspires me. I take the persevering energy of others and use it to fuel my own.
Describe yourself in three words.
Adaptable, ethereal, affable.
Tell us a fun fact about you.
I am bilingual in Spanish and English, and it really catches people off guard sometimes, but hey if you ever need a translator I'm here!
What does it mean to be a part of USC Kaufman?
Being a part of USC Kaufman is a fantasy fulfilled. I still remember taking the virtual Experience USC Kaufman before I applied and completely falling in love with the faculty and atmosphere created by everyone I interacted with. It has been my dream program and to actually be able to attend is surreal. It reassures me of the path I am on to achieve my goals and aspirations as a dancer, artist and creator.