Anijah Lezama (she/her)
Brooklyn, NY
BFA Class of 2022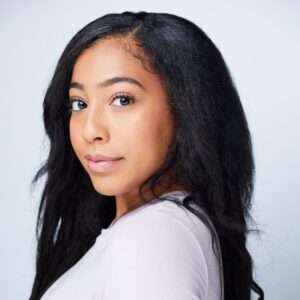 Email: ninilezama@gmail.com
Instagram: @anijahlezama
View Resume
Watch Performance Reel*
A native of Brooklyn, New York, Anijah Lezama began her dance training at the age of three at the Ifetayo Cultural Arts Academy. At the age of eight, she began training at The Ailey School studying ballet, Horton, African dance and tap, and landed a role in PBS' "Martha Speaks." She attended the Professional Performing Arts School under the Artistic Direction of Guillermo Asca and performed works by Adrienne Hurd, Martin Lofsnes, Winston Dynamite Brown, Matthew Rushing, Pedro Ruiz and Jeffrey Byum. At the age of 16, Anijah performed as Estella in the Carnegie Hall production of West Side Story and participated in the BBC Documentary "West Side Stories: The Making of a Classic" starring Bruno Tonioli.
Anijah continues her studies at USC Glorya Kaufman School of Dance, where she has had the honor of performing works by William Forsythe, Jiří Kylián, Dwight Rhoden, Barak Marshall and Saleemah E. Knight. While completing her BFA in Dance, Anijah also pursues a minor in Cultural Diplomacy. Anijah is a Dance Merit Scholar, USC Performance Science Institute Scholar and member of the USC Research Gateway Scholars 2021 Cohort. While residing in Los Angeles, she has joined Bloc LA Talent Agency and has been employed in commercial dance opportunities such as Brandy's Baby Mama music video, Cado Avocado Ice Cream commercial and more. Anijah aspires to become a social impact leader that assists companies in philanthropic efforts through inclusive initiatives, global partnerships and strategic investments. Secondarily, she aspires to provide awareness of authenticity in hopes of improving diversity, communication strategies and allyship.
*This performance reel requires a password. Please contact Elliott Scher at elliotms@usc.edu for access.