Anijah Lezama (she/her)
Brooklyn, NY
BFA Class of 2022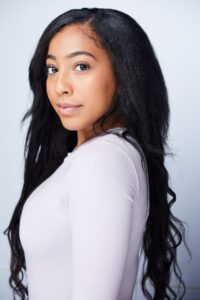 Where did you train?
I began my training at the age of three in ballet and African dance at Ifetayo Cultural Arts Center in Brooklyn, NY. At the age of eight, I began training at The Ailey School as part of the Junior Division studying Ballet, Horton, African Dance and Tap. I then attended the Professional Performing Arts School/Ailey program where I received training in Graham and Jazz. While in high school, I also studied Ballet and Contemporary at French Academie of Ballet.
What inspires you?
I'm inspired by people that use their gifts to create change. It is one thing to have a gift, but it is another thing to have a gift that is properly used to instill peace, a positive difference and to establish an increase of voices that need to be heard in this world.
Describe yourself in three words.
Humble. Bold. Open-minded.
Tell us a fun fact about you.
I come from a culturally diverse background. I am Trinidadian, Iranian and Venezuelan.
What does it mean to be a part of USC Kaufman?
Being part of USC Kaufman means that I am embarking on a life-changing journey and becoming part of a legacy that will live on forever. It is so powerful and exciting because to be in an environment in which I'm learning and working among people who are committed to dance as well as forging change in the world through the arts. I'm extremely grateful to be part of Kaufman and I'm eagerly looking forward to the next 4 years!