Ashley Chung
La Palma, CA
BFA Class of 2027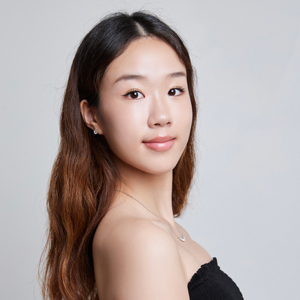 Where did you train?
I commenced my ballet journey in Seoul, South Korea, training initially at Sunhwa Arts Middle School, as well as pursuing further training at Southland Ballet Academy and the San Francisco Ballet School.
What inspires you?
I am inspired by the goals that I aspire to achieve, as my experiences in the past have guided me toward the passions that fill my heart with love and purpose. Being surrounded by beautiful dancers, each expressing their unique individuality and personality, I find immense inspiration and motivation.
Describe yourself in three words.
Optimistic. Passionate. Resilient.
Tell us a fun fact about you.
I'm not the best at playing video games.
What does it mean to be a part of USC Kaufman?
Being part of USC Kaufman means starting a new chapter in my life. Acquiring fresh opportunities and experiences at Kaufman will contribute to my growth, nurturing not just my artistic journey but also my personal development as an individual. Being able to join a supportive community is a genuine blessing, allowing me to explore my full potential by stepping beyond my comfort zone.