Bella Mills (she/her)
Atlanta, GA
BFA Class of 2027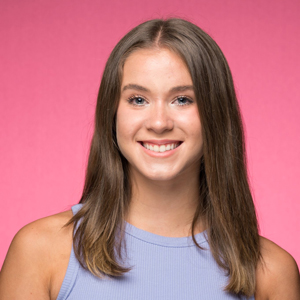 Where did you train?
I trained at Rhythm Dance Center in Marietta, Georgia for 15 years.
What inspires you?
A lot of my inspiration comes from music; I love finding new songs, artists, or even genres that provoke me to dance. Another source of inspiration for me is dance videos on social media. I love to learn choreography that inspires me, even if it's through a screen!
Describe yourself in three words.
Pigtails. Brownies. Naps. 
Tell us a fun fact about you.
I am terrified of construction cranes!
What does it mean to be a part of USC Kaufman?
Being a part of USC Kaufman means that I get to spend my four years of college learning with (and from!) some of the most talented, creative, unique, and inspiring people in the world. There's truly nowhere else I'd rather be! Dance on!