Belly Laird (they/them)
Foster City, CA
BFA Class of 2027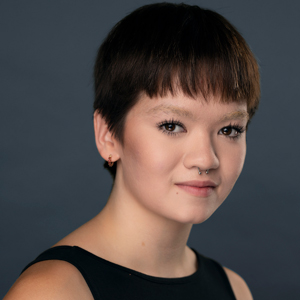 Where did you train?
I trained at Melodic Remedy Dance Studio in San Carlos, California.
What inspires you?
I find myself most inspired when I encounter someone with an all-consuming passion for their craft. The drive to keep in an endless pursuit of discovery and betterment never ceases to amaze and encourage me to do the same.
Describe yourself in three words.
Kinetic. Perceptive. Thoughtful.
Tell us a fun fact about you.
My middle name is Yoshiko, meaning "good child" in Japanese. 
What does it mean to be a part of USC Kaufman?
Being a part of USC Kaufman means that I am committing myself to constant growth and movement in creation and exploration, as a person and an artist. It also means being surrounded by the ingenuity and authenticity of peers and faculty, all of whom I have deep gratitude and amazement.