Benjamin Peralta
Jacksonville, FL
BFA Class of 2022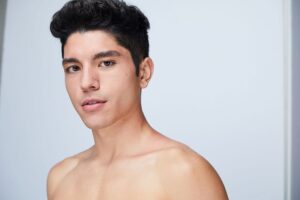 Where did you train?
I trained primarily in ballet and modern at Douglas Anderson School of the Arts during the day and was exposed to various other styles such as contemporary, jazz, tap and hip-hop at Britney Boyd Dance Company after school hours. I also received a good portion of my ballet training from Florida Ballet and the Orlando Ballet School.
What inspires you?
I am inspired by the beauty of nature and its ability to change and evolve while at the same time remaining consistent. I am also heavily influenced by human interactions and the various emotions that reside in all of us. I believe that everyone has their own unique artistic voice and it is essential to explore the full extent of each person's vocabulary.
Describe yourself in three words.
Determined. Analytical. Interested.
Tell us a fun fact about you.
I have the biggest sweet tooth! I seriously cannot go to bed at night without eating dessert.
What does it mean to be a part of USC Kaufman?
Being a part of USC Kaufman is honestly so surreal. I'm incredibly honored and humbled to be surrounded by not only incredible artists, but truly remarkable humans. Kaufman is bigger than dance. It truly is a movement in the dance community and I can't wait to play a part in changing the way we view dance today.