Benjamin Peralta
Jacksonville, FL
BFA Class of 2022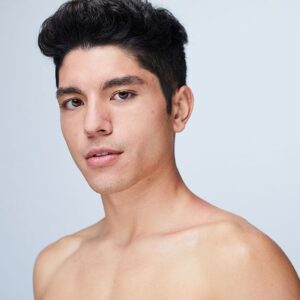 Email: benjaminperalt9@gmail.com
Instagram: @benjaminperalta_
View Resume
Watch Performance Reel*
Benjamin Peralta grew up in Jacksonville, Florida where he danced competitively and trained at an arts high school. At an early age, he was exposed to training in both commercial and concert dance environments. In 2018, Benjamin left home to pursue a BFA in Dance at the USC Glorya Kaufman School of Dance. In the embodied practice of dance and within choreographic settings, Benjamin takes a philosophical approach with human connection, both physical and emotional, athleticism, musical intricacy and simplicity. He is eager to continue exploring the intersectionality between dance and the human condition in his professional career.
At USC Kaufman, Benjamin has performed the works of William Forsythe, Jiří Kylián, Barak Marshall, Paul Taylor, Merce Cunningham, Bret Easterling and more. His additional passions for both yoga and photography influence the way he executes choreography, as well as his creation process. With attention to mindfulness that is practiced in yoga and a hyper-fixation on the transitional moments that can be found in photography, Benjamin's approach to dance is an accumulation of multiple different mediums.
He is influenced by Eastern and Western philosophies which carries into his improvisational and compositional practices; living in a constant state of questioning, examining and refinement of knowledge as it presents itself. He hopes to pursue a career in a variety of dance sectors as a concert dancer, repetiteur, choreographer, yoga instructor/practitioner and more.
*This performance reel requires a password. Please contact Elliott Scher at elliotms@usc.edu for access.