Brenan Gonzalez (he/him)
Lake Worth, FL
BFA Class of 2025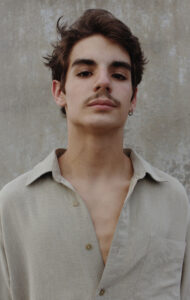 Where did you train?
I trained at That's Dancing in Lake Worth, Florida, as well as A.W. Dreyfoos School of the Arts.
What inspires you?
I find inspiration from just about anything, but overall I think that seeing those I surround myself with achieving, succeeding and creating opportunity for themselves is what inspires me to push harder and do better in all aspects of life.
Describe yourself in three words.
Eclectic. Optimistic. Mellow.
Tell us a fun fact about you.
I can solve a Rubik's cube in one minute.
What does it mean to be a part of USC Kaufman?
Being selected to be a part of the USC Kaufman Class of 2025 has been both anxiety-provoking and exciting, striking myself with an overwhelming sense of surrealism to be amongst the most talented dancers and people. For me, USC Kaufman is a family that embraces diversity and uniqueness in order to foster a workspace for creativity, care and the discovery of one's artistic voice and intent to change the world for the better through dance. Needless to say, I am honored to be here and thrilled for this next chapter.