Cardin Chung (he/him)
Longview, WA
BFA Class of 2026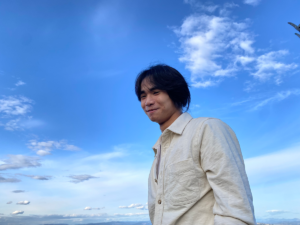 Where did you train?
My training began at High Step Dance Academy in my hometown, Longview, Washington. I was exposed to styles of jazz, contemporary, ballet, tap, hip-hop and acrobatics. When I became a first year in high school, I began training at Northwest Dance Project in Portland, Oregon. For the last two years, I have been dancing with Open Space Dance in Portland as a student and young company member.
What inspires you?
Life has so many facets to pull inspiration from, whether it is the people around me or the rhythm and sound of nature. Inspiration even comes from not having any at all. There are times when I feel stuck or cornered in my creativity. Yet those times tend to create interesting results. I sometimes use the feeling of being stuck as a concept in which inspiration and creativity can be nurtured. I guess you could say I find inspiration by riding the wave of life.
Describe yourself in three words.
Hungry. Aware. Whimsical!
Tell us a fun fact about you.
I was born left-handed, but learned to do everything with my right hand when I was young. Thanks to that, I'm ambidextrous!
What does it mean to be a part of USC Kaufman?
Being a part of USC Kaufman feels like someone just handed me the key to do all the learning that I have been dreaming to do, as well as to be a part of a loving and driven community. The amount of resources in and out of dance, the amount of collaboration and inspiration, and the amount of information there is to gather from the community is a fantasy dream come true!