Caroline McAleavey (she/her)
Trumbull, CT
BFA Class of 2027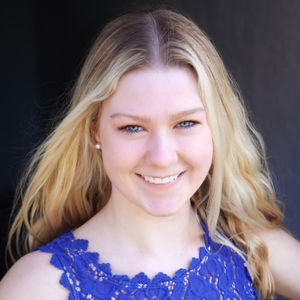 Where did you train?
I am so grateful to have trained at Kanyok Arts Initiative in New York City under the mentorship of founder and director Laurie Kanyok. 
What inspires you?
Inspiration is what leads an artist to continue to create and express themselves. For me, my inspiration comes from surrounding myself with other artists who are just as determined as me, who take risks, and who are never afraid to fail. It's working with teachers and choreographers who celebrate authenticity and everyone's own truth. It's being in a space that is about progress, not perfection. It's these people and spaces who make me better and inspire me to dive deep within myself and my artistry. 
Describe yourself in three words.
Hardworking. Sunny. Passionate. 
Tell us a fun fact about you.
I am a mezzo-soprano who loves to sing Broadway tunes from Chicago and Waitress. 
What does it mean to be a part of USC Kaufman?
To be a part of USC Kaufman truly feels like a dream come true. From the very first moment I stepped on campus and visited the Kaufman School, I instantly felt this warmth and energy that I knew was special. After this gravitational feeling, I knew that Kaufman was the place I wanted to be and I was determined to do everything to make this goal of mine a reality. Writing this now feels so surreal and I'm just so grateful for this opportunity to expand my repertoire with the incredible artists and faculty at USC. To be a part of this program means the world to me and I'm so honored to be able to call this beautiful place my new home.