Casey Murray
Mill Valley, CA
BFA Class of 2022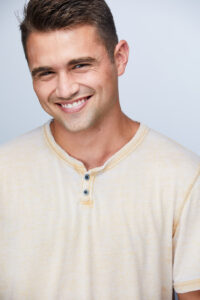 Email: caseycmurray1999@gmail.com
Instagram: @caseycmurray
View Resume
Watch Performance Reel*
Casey Murray comes from Mill Valley, California, where he trained at dance studios including Roco Dance, Bay Area Dance School and Studio V. The training pushed him to be a versatile, technical dancer. At a young age, Casey traveled around the Bay Area training in multiple hip-hop styles including breaking, popping, locking, waving, animation and house. Later in high school, he traveled to Los Angeles and fell in love with contemporary dance, and began training in ballet, modern and jazz.
Casey has been teaching dance since he was 15 years old, allowing him to grow as an artist and as a leader. He has traveled nationally assisting faculty at dance conventions, and led events as a teacher. Casey aspires to dip his toes into every aspect of the dance industry, as well as the entertainment industry. Through his love of film and music, he brings experience and knowledge to every facet of his career. During his time at the USC Glorya Kaufman School of Dance, Casey performed the work of Jiří Kylián, Merce Cunningham, Paul Taylor, Peter Chu, Hope Boykin, Barak Marshall and Jermaine Spivey among others. He also received a minor degree in entrepreneurship, and will apply it to create more opportunities for artists in the dance industry. His goal is to share his passion for dance and choreography, and to teach globally.
*This performance reel requires a password. Please contact Elliott Scher at elliotms@usc.edu for access.