Catherine Cruise (she/her)
Brooklyn, NY
BFA Class of 2026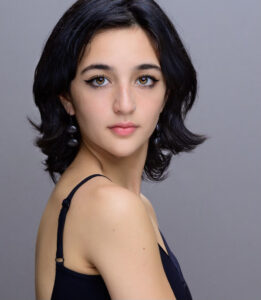 Where did you train?
MOVE|NYC|, LaGuardia High School For the Performing Arts & Music and Art, Peridance Center, Gelsey Kirkland Academy, The Ailey School.
What inspires you?
I am inspired by choreography that is able to transport me and evoke a real emotional reaction from me. This reaction can be many things, such as joy, anger or introspection, as long as it is a natural reaction that almost catches me off guard. This inspires me to want to make my own works and do the same for other people.
Describe yourself in three words.
Openminded, Sociable, Adventurous.
Tell us a fun fact about you.
My nickname is Cat, and fittingly, I love Cats!
What does it mean to be a part of USC Kaufman?
For me, USC Kaufman is a prestigious yet very open community that focuses on artistry and intellect. At USC Kaufman, I am excited to see how I can strengthen the relationship between these two sides of myself in order to become the best dancer and person I can be.