Charizma Lawrence (she/her)
Atlanta, GA
BFA Class of 2023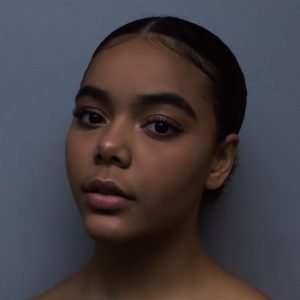 Where did you train?
I trained at Dancemakers of Atlanta, under the directors Denise and Lynise Heard Latimer. I trained there for 7 years in ballet, tap, contemporary, jazz, hip hop, and acrobatics.
What inspires you?
My biggest inspiration is my brother, George Lawrence II. He is the person that brought dance into my life and I watched him grow into a beautiful artist despite all the hardships he faced as a young African American male dancer. It inspired me to pursue my passion head on, and inspired me to become my own artist and work hard for what I want. He inspires me still to keep going, because I know if he can accomplish his dreams so can I.
Describe yourself in three words.
Intelligent. Innovative. Charismatic.
Tell us a fun fact about you.
I'm double-jointed in my ankles, so I can kind of of flip my feet completely over. This is more of a weird than a fun fact, but it counts. I'm also kind of a thrill-seeker. I've been skydiving, hang gliding, parasailing, and indoor skydiving.
What does it mean to be a part of USC Kaufman?
It means the world to me to be part of USC Kaufman. Ever since I decided I wanted to pursue dance on a collegiate level, I knew I wanted to go to USC Kaufman. This place felt like home. I'm so excited to finally call it that and be part of group of people that love their art just as much as me. To be part of USC Kaufman also means family, because as I have already experienced with my fellow freshman, we all look out for each other as if we've known each other for eternity. It is truly an honor to be a part of this community here at USC Kaufman.