Covin Washington (he/they)
Atlanta, GA
BFA Class of 2027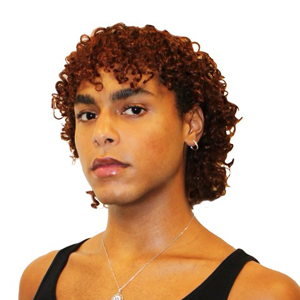 Where did you train?
I started my dance journey at Moving in the Spirit, under the direction of Dana Lumpkin and Chris McCord, and then began my ballet training at Decatur School of Ballet. After receiving a merit scholarship through Atlanta Ballet's AileyCamp at age 11, I joined the Centre for Dance Education in 2016. Two years later, I was promoted to Atlanta Ballet's Academy and spent three years there before being asked to join Atlanta Ballet II for the 2021|2022 Season. I spent two years in the second company, before choosing to attend Kaufman. I have also been very fortunate to receive scholarships for summer terms and attend renowned ballet schools, such as Houston Ballet, San Francisco Ballet, and Pacific Northwest Ballet. 
What inspires you?
My sister Carmela is my biggest inspiration for dancing. She has non-speaking autism and mitochondrial disease, which means she needs our help with many of her basic needs. Despite her challenges, she is one of the strongest people I know. She has faced obstacles that I could not even imagine overcoming. When we were young, I would put on dance shows in the living room and she would sit and smile as I spun around the room. Her smile was enough for me. I dance because she can't dance in a way that is "acceptable" to society. Her laughter and excitement live in me with every step I take on stage.
Describe yourself in three words.
Boisterous. Resilient. Compassionate. 
Tell us a fun fact about you.
I spent 182,986 minutes listening to music in the year of 2022. 
What does it mean to be a part of USC Kaufman?
Being part of such a diverse and empowering group of artists is an honor. It is such a fantastic opportunity to work alongside them and create not only art, but memories that will serve as a building block in our training foundation. I am incredibly humbled and excited to grow alongside my peers and navigate this next stage of our dance careers.