Diego Lopez (he/him)
Chihuahua, Mexico
BFA Class of 2024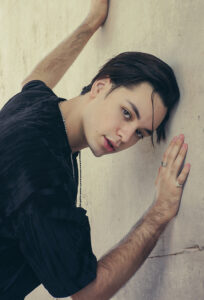 Where did you train?
I trained at D'ansa Jazz Stage in Chihuahua, Mexico for approximately 11 years. This past year I was fortunate to attend The Joffrey Ballet School in Frisco, Texas as part of their Trainee Program.
What inspires you?
I'm inspired by my surroundings, especially my peers and those I look up to. I'm forever grateful to be able to work with such amazing artists that bring light into the studio and push everyone to become a better person and dancer. I have also always loved the cultural differences and learning about cultures I have not been exposed to and that is something I look forward to learn.
Describe yourself in three words.
Indigo. Maroon. Black.
Tell us a fun fact about you.
I'm a huge Harry Potter fan. My house is Ravenclaw and my patronus is a hedgehog.
What does it mean to be a part of USC Kaufman?
I'm still in shock! This became a dream of mine for a long time and I cannot believe I was granted the opportunity to become a part of the family. I'm extremely excited to share my passion and especially to learn from my peers and the faculty. It is going to be a life changing experience, letting myself indulge with The New Movement USC Kaufman gives will open my eyes and let me dive into a whole new world inside dance and art. I'm so honored to be part of the Class of 2024 and can't wait to dance with all these wonderful artists.