Ella Melideo (she/her)
Westlake Village, CA
BFA Class of 2026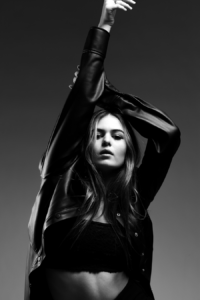 Where did you train?
I trained at Mather Dance Company and prior to that I was a part of Immabeast and Immabreath.
What inspires you?
The hard work and unwavering genuineness my mom and dad have demonstrated, as well as the constant encouragement to have an impactful life while pursuing whatever your passion is has acted as a huge inspiration for how I plan to live my life.
Describe yourself in three words.
Curious, intricate, inventive.
Tell us a fun fact about you.
I'm really interested in the collaboration between dance and other artistic outlets, especially the intermixing of dance in film.
What does it mean to be a part of USC Kaufman?
Being a part of USC Kaufman is joining a family and community full of a diverse array of artistry and being provided the best environment to grow as a dancer and choreographer through mind, body and soul.