Emily Berg (she/her)
Southborough, MA
BFA Class of 2026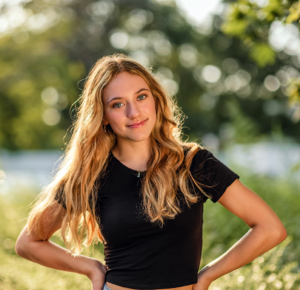 Where did you train?
I trained at Rhythm Dance Company in Westborough, Massachusetts.
What inspires you?
I am inspired by the drive and curiosity my parents gave to me and the thrill that stems from exploring new concepts as well as horizons. My inspiration also comes from the enthusiasm that younger me had to make her dreams come true.
Describe yourself in three words.
Passionate, open-minded, imaginative.
Tell us a fun fact about you.
I will never be seen without chapstick with me.
What does it mean to be a part of USC Kaufman?
To me, being a part of USC Kaufman means to be immersed in a supportive family that brings inventive perspectives to a place for open exploration and vulnerability. USC Kaufman brings the best version of you to the surface, and I will forever be grateful to say I am a part of the USC Kaufman family.