Emmy Cheung (she/her)
Irvine, CA
BFA Class of 2026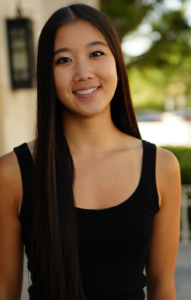 Where did you train?
I trained at West Coast School of the Arts and Orange County School of the Arts in the Commercial Dance Conservatory.
What inspires you?
The world around me is inspiring. Breathtaking sights, fueling conversations and fascinating people all hold a role in influencing who I am. There is a unique story behind everyone and everything, which opens possibilities to find connections throughout the world. In day to day life, this interweaving culminates in stimulating new creative endeavors that serve as a source of endless inspiration.
Describe yourself in three words.
Offbeat, Opaque, Obliging.
Tell us a fun fact about you.
I enjoy making earrings in my free time and have made over 100 pairs.
What does it mean to be a part of USC Kaufman?
I feel welcomed and moved as a part of USC Kaufman. With regards to the dancing, USC Kaufman supports and listens to every type of artist with an open mind. In addition to the acceptance of every dancer for their artistry, the USC Kaufman family is equally as accepting of each individual as a person. USC Kaufman has built a warm hearted environment that I am grateful for.