Esi Samuels (she/her)
Bronx, NY
BFA Class of 2025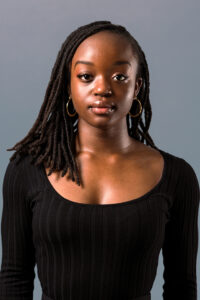 Where did you train?
I trained at The Ailey School as well as the MOVE|NYC| Young Professionals Program.
What inspires you?
New York City inspires me. In the city, there is an amazing mix of so many different cultures and experiences. There is so much constant movement and excitement and it's fun to look at people and wonder "where are they going?" and "where are they coming from?"
Describe yourself in three words.
Imaginative, thoughtful, warm.
Tell us a fun fact about you.
I'm very open minded and I love trying new cuisine. There are some foods that I really don't like, but I'm not a picky eater and I'll try any dish at least once.
What does it mean to be a part of USC Kaufman?
Being a part of USC Kaufman means being a part of a progressive environment that is pushing the boundaries of the dance field. I am so grateful and excited for this opportunity.