Faith Aguilar (she/her)
Tustin, CA
BFA Class of 2027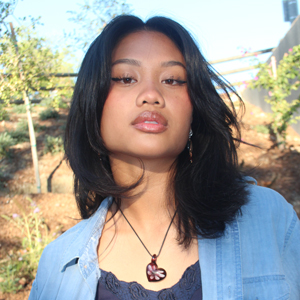 Where did you train?
I trained and took classes in various places in Southern California but mainly spent most of my time at my studio, South Coast Performing Arts, as well as Orange County School of the Arts in the Commercial Dance Conservatory. I was also fortunate enough to train under the Tremaine Dance Faculty as a company member who traveled around the country to assist. 
What inspires you?
When it comes to inspiration, I am heavily influenced by feelings of warmth and comfort. Whether that originates from those surrounding me or my current environment, that feeling of genuine comfort within my body inspires me to push it to its limits. Those feelings are honest and individual to me, yet it makes me want to break its current mold to shape it into something that can be shared. 
Describe yourself in three words.
Heartfelt. Persistent. Creative.
Tell us a fun fact about you.
I can eat a 4×4 burger at In-N-Out and you really know if I like a burger if I don't put it down while eating. If I put it down in between bites, I secretly don't like it. 
What does it mean to be a part of USC Kaufman?
Being a part of USC Kaufman means to explore without fear, to eventually find comfort within the uncomfortable. It means unapologetically prioritizing your artistry and the human being that comes with it. This program guides you in finding the "unknown" in terms of movement and how that becomes embodied into a tight-knit community filled with optimism. To be surrounded by such artists in this family of a program is something I take to the heart as Kaufman stands by putting emphasis on the act of appreciation: for dance and everything that comes with it.