Hayden Rivas (he/him/his)
South Surrey, British Columbia, Canada
BFA Class of 2024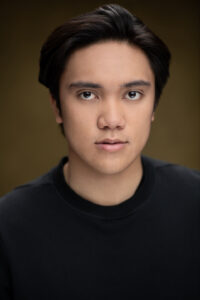 Where did you train?
I grew up training at Joy of Movement and then continued at a local studio called Dance Effect. I then furthered my craft at a studio called Pulse Dance Centre, under the direction of Sarah Van Os and Nicole Lannard-Ghini.
What inspires you?
There are so many things that inspire me, but the people around me continue to be my constant source of inspiration! I am inspired by the general curiosity, creativity, and sparks of individuality that I see. I am so grateful to be surrounded by so many beautiful artists, but more importantly people. I am also very inspired by my parents. Without their hard work, support, and love, I would not be the person and artist that I am today.
Describe yourself in three words.
Resilient. Ambitious. Friendly.
Tell us a fun fact about you.
If you look closely you can see me dancing in Disney's Descendants 3, directed by Kenny Ortega.
What does it mean to be a part of USC Kaufman?
USC Kaufman has been my dream school since 2016. To this day, I remember walking into the USC Kaufman building and being filled with so much inspiration. For me, being a part of USC Kaufman means re-imagining the future of dance. I'm excited to join a family that not only shares a collective love for dance but also who are not afraid to push the boundaries and experiment.