Irena Yin (she/her)
Shanghai, China
BFA Class of 2026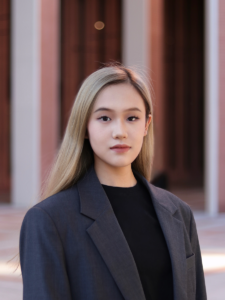 Where did you train?
I trained in Shanghai under Meili Zhu and Flora Zeta Cheong-Leen. I also trained at Elmhurst Ballet School and Master Ballet Academy.
What inspires you?
I am inspired by individuals and collectives who constantly push the limits in their respective fields – I admire their talent, their diligence and their infectious energy.
Describe yourself in three words.
Unconventional. Gouache. Determined.
Tell us a fun fact about you.
I speak fluent Shanghainese.
What does it mean to be a part of USC Kaufman?
To be a part of USC Kaufman means to be a part of a greater whole that's revolutionizing and redefining the arts. USC Kaufman presents a new chapter filled with opportunities to explore contrasting styles, experiment with different mediums, and collaborate with others.