Zay
Marietta, GA
BFA Class of 2024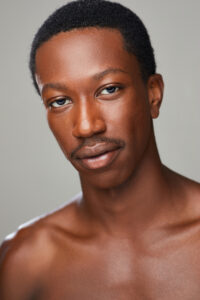 View Resume
Watch Performance Reel*
Zay's mission is to foreground his love of performing and creative play. His passion as an artist stems from diverse experiences: singing in choir, freestyling in his youth church, playing the cello, or arranging song covers with his sisters. Through his skills as a performer, choreographer and music producer, his ultimate goal is to develop immersive experiences that center the coalescence of dance and music on commercial and concert platforms.
Zay began taking dance seriously once he moved to Marietta, GA and began training at Atlanta Ballet Centre for Dance Education. At Cobb County Centre for Excellence in the Performing Arts, he studied jazz (Luigi, Giordano), ballet and Horton under their respective faculty—Eileen Edwards, Denis Reeves, and Leslie Davis. He also trained at Atlanta Ballet in the Pre-Professional Division under faculty Armando Luna, Abby Tan, and Sharon Story. He spent his senior year at Terminus Modern Ballet Theatre where he received intimate instruction and mentorship from renowned principal dance artists, including John and Christine Welker, Tara Lee, Rachel Van Buskirk, Heath Gill, and Christian Clark. 
Zay is currently earning his BFA at the USC Kaufman School of Dance, where he has studied under artists and teachers such as William Forsythe, Dwight Rhoden, Desmond Richardson, D. Sabela Grimes, E. Moncell Durden, Jackie Kopcsak, Patrick Corbin, Ebony Williams and Bruce McCormick. He has danced in original works by Hope Boykin, Kyle Abraham, Saleemah E. Knight, and Amy O'Neal.
*This performance reel requires a password. Please contact Elliott Scher at elliotms@usc.edu for access.