Jada Vaughan
Elmont, NY
BFA Class of 2024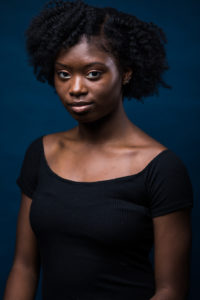 Where did you train?
I trained at The Ailey School as well as MOVE|NYC| Young Professionals Program with Co-Founders & Directors Chanel DaSilva and Nigel Campbell.
What inspires you?
My mother, my mentors, fellow artists and my friends who also want to pursue dance as a career!
Describe yourself in three words.
Passionate. Reliable. Affectionate.
Tell us a fun fact about you.
I LOVE to do my hair. I have been natural for the past three years and I'm obsessed with curls, coils and everything in between. Natural hair shows not only beauty, but power and strength within Black women!
What does it mean to be a part of USC Kaufman?
Being a part of USC Kaufman means everything to me! I have dreamt of attending this school and it is finally a reality. To be a part of USC Kaufman also means growing as a community as well as a family. I am extremely grateful to take part in this new journey in life and I cannot wait to see what's to come in the future.