Janae Holster (she/they)
Placentia, CA
BFA Class of 2025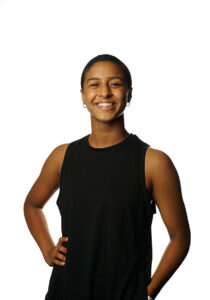 Where did you train?
In high school, I trained at California School of the Arts, PAVE School of the Arts, Project 21 and various studios throughout the Los Angeles Metro Area. I lived in the Washington, D.C. Metro Area until middle school and trained at Adagio Ballet, the Movement Studios, Capitol Movement and Joy of Motion.
What inspires you?
I'm inspired by storytellers, acts of selflessness and being around people who are passionate about being good to others. I'm inspired by artists who commit 100% to their craft: the ones that leave you in awe of their ability.
Describe yourself in three words.
Introspective. Compassionate. Curious.
Tell us a fun fact about you.
My body is full of scars, all of which I received at various summer camps as a kid (broken bones, stitches, scars, etc.).
What does it mean to be a part of USC Kaufman?
I get to pursue higher education in the art form I consider my home. I have the opportunity to learn from some of the greats and gain insight into what it takes to have longevity in a dance career and doing it in a well-rounded and supportive environment.