Jayde Woodard (she/her)
Baton Rouge, LA
BFA Class of 2026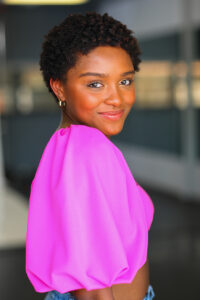 Where did you train?
Revolution Dance Company
What inspires you?
I am most inspired by my little sister, Layla. She is the smartest and most creative person I know. She challenges me everyday and forces me to look at things a little bit differently.
Describe yourself in three words.
Outgoing, empathetic, curious.
Tell us a fun fact about you.
My favorite place to eat is Sonic!
What does it mean to be a part of USC Kaufman?
To me, being a part of USC Kaufman means being a part of a family that is working together to explore dance in a new and innovative way while adding value to the dance community as a whole.