John Ledwith (he/him)
New York, NY
BFA Class of 2026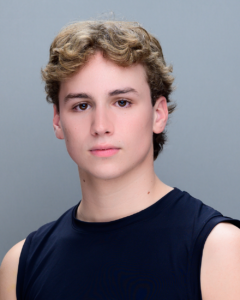 Where did you train?
I trained at the Fiorello H. LaGuardia High School of Music, Art, and the Performing Arts.
What inspires you?
Inspiration lives everywhere! Even when out for a walk, I find myself influenced by structures of nature and the way people move about. There is so much to watch and pay attention to, and the more I observe and experience, the more enriched and inspired I feel. There is much to soak in!
Describe yourself in three words.
Curious, Consistent, Optimistic.
Tell us a fun fact about you.
I am an avid skier!
What does it mean to be a part of USC Kaufman?
Being a part of USC Kaufman means being a part of a multifaceted group of artists who are constantly curious and willing to adapt to this ever-changing art form. I can not wait to grow alongside my fellow USC Kaufman students, as I believe there is so much to give and receive from one another!