Jonacy Montero
Daly City, CA
BFA Class of 2024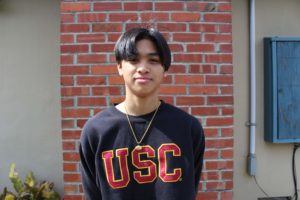 Where did you train?
I trained at Westlake School for the Performing Arts. I've trained in many styles (ballet, contemporary, modern, jazz, hip-hop, tap, musical theatre, Polynesian, and Filipino cultural). I've been dancing at WSPA since I was four years old!
What inspires you?
I'm inspired by the things I experience. It can be anything from personal struggles and emotions to community and global impacts. I believe there's always something to take away from anything.
Describe yourself in three words.
Growth. Creative. Compassionate.
Tell us a fun fact about you.
My left kneecap isn't fully fused together — it's two separate bones!
What does it mean to be a part of USC Kaufman?
I'm extremely excited to be a part of USC Kaufman. I've always looked up to the faculty and students at USC Kaufman, so being able to share a space and learn with/from them is an honor. I get to be a part of a program that encompasses so many aspects of dance and education. I'm eager to be a part of this unique community of innovative visionaries. Learning alongside these individuals is truly a blessing.