Kali Sayles
Las Vegas, NV
BFA Class of 2026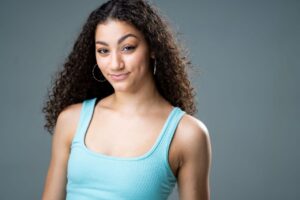 Where did you train?
I've diversified my dance training through Innovation Dance Company, Las Vegas Academy of the Arts, Millennium Dance Complex LV and LA, Prodigy Training Center and Nevada Ballet Theatre.
What inspires you?
I'm heavily inspired by those who are willing to give to others when they're given the opportunity. I recently learned that giving brings so much joy into my life and truly makes me appreciate everything I've ever been given. I'm so grateful for the opportunity to be a part of a program like USC Kaufman where I'll be able to give back to others.
Describe yourself in three words.
Little. Mixed. Girl.
Tell us a fun fact about you.
ASL was my primary fluent language until I started speaking English when I was three!
What does it mean to be a part of USC Kaufman?
It's truly a blessing! I knew when I was seven years old that I wanted to be a Trojan so I was beyond excited when I was chosen to be a member of the USC Kaufman program. I'm still in awe every time I step foot on campus! It's an honor to be able to learn from such an innovative faculty and work with some of the most gifted dancers. I am so eager to build life-long relationships with people I know I can learn from and grow with for the next four years and beyond!