Katie Tapalaga (she/her)
Queens, NY
BFA Class of 2027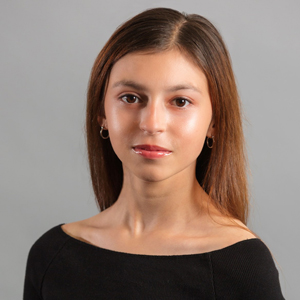 Where did you train?
I grew up training at a local dance studio in my neighborhood, That's Dancin. When I transitioned to Frank Sinatra School High School of the Arts as a dance major, I joined Jump Dance Company where I trained outside of school. I also participated in the MOVE|NYC| Young Professionals Program.
What inspires you?
I am inspired by the community of dancers that surround me as they are driven, passionate, and have an artistry that is unmatched. Being able to see individuals express themselves through movement in their own unique way gives me the drive to keep exploring my own artistic capabilities. I am also inspired by my family, friends, and teachers through their endless amount of support and love. 
Describe yourself in three words.
Compassionate. Driven. Courageous. 
Tell us a fun fact about you.
The first style of dance I ever learned was Romanian and Serbian folk dancing. I also love reading spoilers to movies and then watching them. 
What does it mean to be a part of USC Kaufman?
Being a part of USC Kaufman means being a part of a diverse community of dance styles and backgrounds. I am so excited to learn from not only the talented faculty, but the dancers that surround me. I am eager to learn about their experiences and how it shapes them into who they are as a person and an artist.