Lindsay Lykins (she/her)
Roseville, CA
BFA Class of 2025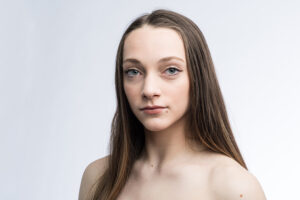 Where did you train?
I started training at Northern California Dance Conservatory when I was three years old and continued training there through my senior year of high school.
What inspires you?
I am a passionate person and am often inspired by my surroundings, whether it be a place, concept or individual. I believe that all art, but dance in particular, has the power to initiate change in our world and this concept alone motivates me as an artist.
Describe yourself in three words.
Dedicated. Passionate. Adventurous.
Tell us a fun fact about you.
Cooking and baking are some of my favorite things to do, and I love to get creative in the kitchen! I really enjoy experimenting with plant based recipes and finding more sustainable ways to eat.
What does it mean to be a part of USC Kaufman?
Being a part of the USC Kaufman family is such a privilege and a huge accomplishment. Dance has always been my passion and dream, and I am so grateful that I have this opportunity to pursue it at a higher level. It is incredibly special to be part of this diverse group of talented dancers and faculty where we each bring something different to the table and learn and grow from one another.