Madison Falconer
Traverse City, MI
BFA Class of 2023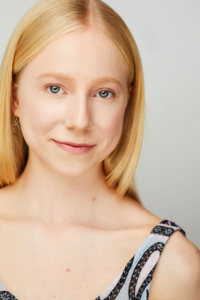 View Resume
Watch Performance Reel*
Watch Choreo Reel*
Madison "Maddy" Falconer is a Los Angeles based choreographer and dancer. She grew up in Traverse City, Michigan, dancing with Company Dance Traverse before moving to Chicago to dance with A&A Ballet. Chicago introduced Maddy to a versatile world of dance communities that led to a fascination with movement's capacity to tell stories across all disciplines. In 2018, she joined the Hubbard Street Scholarship Program founded by Claire Bataille. From the age of thirteen, Maddy began to gain recognition at regional and national competitions for her choreographic works. Notably, Maddy received a New York City Dance Alliance Critics Choice Award for her production, "Crazy," and was recognized as Outstanding Choreographer at YAGP for her ensemble, "Convoluted Echoes." She was the youngest choreographer to receive this honor.
While enriching her choreographic voice in Chicago, Maddy danced professionally with FLOCK, before moving to LA to pursue her BFA at the USC Kaufman School of Dance. At USC, she focused her occupational therapy and compositional research on methods for making dance more accessible to diverse audiences. In 2021, Maddy founded her company, FALCO, and its first initiative, WOODWORKS Residency, with the mission to empower a space for collaboration, creative opportunity and accessible immersive performance events. She has choreographed works on Ballet Arkansas, Traverse City Dance Project, A&A Ballet, Company Dance Traverse, Jackson Dance Company and Imprint Dance Company, among others. While pursuing her BFA, Maddy choreographs and teaches nationally with the aim of cultivating informative work that centers love, empathy and humanity.
*This performance reel requires a password. Please contact Elliott Scher at elliotms@usc.edu for access.