Marcel Cavaliere
New Orleans, LA
BFA Class of 2024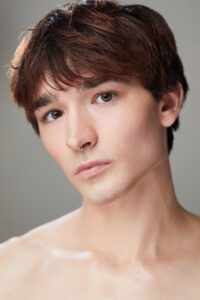 View Resume
Watch Performance Reel*
Marcel Cavaliere was born and raised in New Orleans, Louisiana where he danced competitively and trained at the New Orleans Center for Creative Arts. His education has afforded him extensive knowledge and experience in both concert and commercial dance, which illuminate his improvisational and choreographic endeavors. 
Due to his deep connection to various forms such as Contemporary, Hip Hop, Ballet, Jazz, Modern and Tap, Marcel chose to pursue a BFA in Dance at USC Kaufman with a concentration in Choreography for Stage and Cinematic Arts. During his time in the program, he has had the privilege to perform works by Jiří Kylián, Hope Boykin, E. Moncell Durden, Paul Taylor, Dwight Rhoden and Justin Peck. He has also performed and collaborated with renowned dance companies like A.I.M. by Kyle Abraham and Doug Varone and Dancers. 
Marcel has developed a personal movement style with a particular focus on dynamics, musicality, floorwork, athleticism, emotion, and intricate storytelling, informing his process as both a choreographer and a teacher. Drawing from his many influences outside of dance like film, poetry, and acting, Marcel is interested in building bodies of work that are not only centered on collaboration but also the exploration of what it means to be a hybrid artist. 
He is passionate about building community and youth-artist advocacy. Along his career path, he hopes to create platforms for aspiring choreographers to create and be recognized for their work across both the concert and commercial dance industries, reshaping the way hybridized movement is performed for audiences worldwide.
*This performance reel requires a password. Please contact Elliott Scher at elliotms@usc.edu for access.