Michael Naffier
Fort Collins, CO
BFA Class of 2023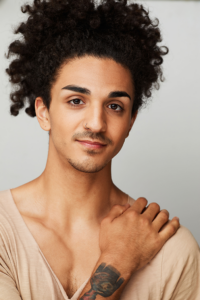 Michael Naffier is a Los Angeles-based, Colorado-born artist. His work, both choreographic and musical, centers Black philosophies and rejects Western definitions of artistic presentation in an effort to carve out space in multimedia expression for Black people, people of color and all marginalized artists who have felt out of place in a world that privileges the white creator.
At the age of nine, after watching "Camp Rock 2: The Final Jam," Michael became enamored with dance. Training in styles such as hip-hop, breakin', contemporary, ballet and jazz at his home studio, Studio West Dance Center, he began finding meaning and purpose in dance beyond choreographing routines on his neighborhood friends. He continued his exploration at the USC Glorya Kaufman School of Dance as a BFA dance major with a concentration in Choreography for Stage and Screen.
At university, Michael began a personal journey of interrogating the conventions and values of the Western dance world. Under the direction of artists such as d. Sabela Grimes, Tiffany Bong, Jermaine Spivey, Dawn Stoppiello, Jennifer Lott and more, he began to find his voice while laying a path for artists who didn't fit neatly into any one box. It was during this process that Michael discovered a love and passion for music composition, production and performance. Utilizing his unique perspective as a dancer and movement maker to inform his musical process, Michael has done commissioned work for choreographers, scored evening-length works and performed live for dance events and shows utilizing Ableton Live and MIDI instruments.
*This performance reel requires a password. Please contact Elliott Scher at elliotms@usc.edu for access.