Michaela Ramirez (she/her)
Paramount, CA
BFA Class of 2027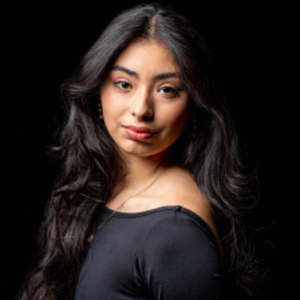 Where did you train?
I trained at the Los Angeles County High School for the Arts (LACHSA), the Debbie Allen Dance Academy (DADA), and under the direction of my ballet instructor Wendy Lawson.
What inspires you?
I'm inspired by others' vulnerability to put forth and exude love and care for what they do. There is no better feeling than the invitation to witness someone's investment in what they have to share. 
Describe yourself in three words.
Passionate. Chicana. Ambitious.
Tell us a fun fact about you.
I have a pet tortoise named Tierra.
What does it mean to be a part of USC Kaufman?
To be apart of Kaufman for me means to be immersed in a community of diverse individuals who come together to offer themselves, learning from one another to grow artistically and personally. Artists sharing ideas in order to go beyond themselves and promote change.