Nina Outlaw (she/her)
Chicago, IL
BFA Class of 2026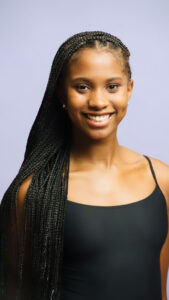 Where did you train?
I trained at Deeply Rooted Dance Theatre under Tracey Franklin and Nicole Clarke-Springer.
What inspires you?
The ebbs and flows of life inspire me to grow truer, more focused, educated and relevant as time passes.
Describe yourself in three words.
Unapologetic. Hardworking. Sentimental.
Tell us a fun fact about you.
I love building legos!
What does it mean to be a part of USC Kaufman?
Being a part of USC Kaufman honestly feels like a dream. I have the opportunity to deepen my knowledge and education mentally, physically and spiritually in an art form that keeps me going. I'm extremely grateful for my new family and looking forward to what's soon to come in the future!