Ryan Vyskocil
Gaithersburg, MD
BFA Class of 2023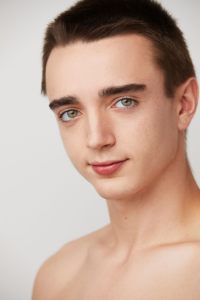 View Resume
Watch Performance Reel*
Originally from Maryland, Ryan Vyskocil is an artist and creator prioritizing versatility and authentic meaning within movement, unraveling the body's capability when expressing experience, history and emotion in different spaces. He began training in tap and jazz at Dawn Crafton Dance Connection. Enjoying the unbound expression and emotional connection in class and on stage, Ryan continued onto ballet at Akhmedova Ballet Academy, as well as modern, hip-hop and contemporary. Finding a love of the unique history and meaning behind each practice and how they support and differ from one another, he made hybridity a lifelong practice and pursuit.
At USC Kaufman, Ryan works to define new movement through multi-disciplinary study, composition and performance, learning works by innovators William Forsythe, Jiří Kylián, Ohad Nahrin, Merce Cunningham and Tessandra Chavez, and training under the guidance of Fiona Lummis, Saleemah E. Knight, Thomas McManus, Bret Easterling, Bruce McCormick and Jennifer Lott. During school, he composed work that embodied hybridity, musicality, emotion and personal meaning by teaching the next generation through Kaufman Connections and studio classes. Upon graduation, Ryan hopes to continue exploring the intersections of concert and commercial work, performing and collaborating at the forefront of cross-disciplinary exploration and creation, while researching the ability of the body to express emotional and personal experience. He plans to travel, gaining insight into cultures, histories and people, using the power of storytelling to deeply touch others through movement and narrative, and adding more intrinsic and extrinsic knowledge to his repertoire.
*This performance reel requires a password. Please contact Elliott Scher at elliotms@usc.edu for access.