Ryann Smith (she/her)
Warner Robins, GA
BFA Class of 2026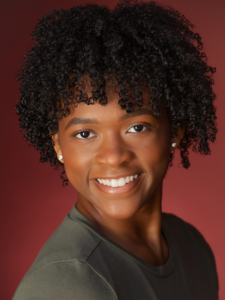 Where did you train?
I trained at the International City School of Ballet and Dancemakers of Atlanta.
What inspires you?
The new positive energies and atmospheres created in the dance studio. I'm inspired by the stories told by every individual because they all bring something new and unique to the space. It's captivating in a way that makes me want to carry that energy on and expand on that feeling in the next space I find myself.
Describe yourself in three words.
Determined, Enchanting, Versatile.
Tell us a fun fact about you.
I love to share about my life experiences, and one is that I am a victim to gun violence. I love to express to others that have been in my position as well as educate and advocate to and for others. In a way, it heals my heart knowing that my courage to share could've helped someone or give themselves the courage to share their story.
What does it mean to be a part of USC Kaufman?
To be a part of USC Kaufman means being a part of a big, strong, supportive family. This is where we connect, learn, create and collaborate free of all judgement. Being able to feel the freedom of exploring new relationships and make unbreakable bonds while doing the thing we love most. Pushing and breaking barriers and raising the bar within USC Kaufman and the rest of our community and making memories that are unforgettable.