Shea Hancock (she/her)
Stockton, CA
BFA Class of 2025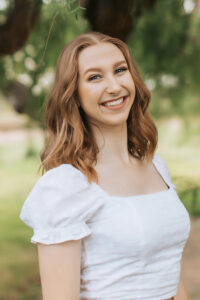 Where did you train?
I began dancing at the age of six and danced competitively at a studio called Dance Xtreme until the studio unfortunately had to shut its doors. I then continued my training at East County PAC in Brentwood, Calif., and during my senior year I trained at Nor Cal Dance Arts in San Jose, Calif. as well. I also was 100% a convention kid.
What inspires you?
I find myself so inspired by those who exude love and passion for what they do. When I can tell that someone is pouring their soul into something they really care about, it fills my heart with so much joy.
Describe yourself in three words.
Curious. Reliable. Sunshine.
Tell us a fun fact about you.
The first concert I ever went to was a Cheetah Girls concert, and the only thing I remember about it was the REALLY good corn dog I ate.
What does it mean to be a part of USC Kaufman?
I still cannot believe I have the opportunity to be a part of such an incredible program. Being a part of USC Kaufman means I am able to engage in an environment full of incredible movers, thinkers and overall human beings who all want to make the world a better place through dance.