Slaterrose
Houston, TX
BFA Class of 2025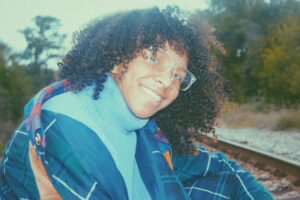 Where did you train?
I started my dance training at Carver Aldine Dance Company with Sarita Salinas. I later joined Dancezone and trained with Sheila Milner as well as attended the High School for the Performing and Visual Arts with training from Courtney Jones and Janie Carothers.
What inspires you?
I try my best to find inspiration in my everyday life. I believe dance itself is very inspiring and having the ability to be in an environment with dancers creating an image, or exploring, or making controversy with movement is something I find interesting. Seeing others explore and push themselves creatively is very fun to watch and motivates me to want to push with them. Aside from dance, falling into deep thought about our existence in the world as humans and constantly questioning the way our body can move, the way a brain can think, challenges me to think differently. Bringing me closer to having a full mind, body and spiritual understanding of myself and friends around me.
Describe yourself in three words.
Innovative, Gentle, Curious.
Tell us a fun fact about you.
I am also known as Slaterrose. "Slater" is a character in the series "Saved by the Bell" and "Rose" is because the first part of my last name sounds like you're saying the word rose. Put them together. Slaterrose.
What does it mean to be a part of USC Kaufman?
Being a part of USC Kaufman is an absolute honor and dream come true. The training, consultants and artists that you'll meet through this program will set you apart in so many ways and help you grow not only as a dancer, but as a human being. I am beyond excited and grateful for this opportunity and to be a part of a new family and continue to learn, grow, and inspire the future generations to come.