Tamar Gabelev (she/her)
Dallas, TX
BFA Class of 2025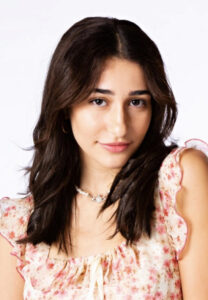 Where did you train?
I trained at Booker T. Washington High School for the Performing and Visual Arts, and separately with Yulia Ilina.
What inspires you?
I am inspired by art and other artists: a movement from Chopin's "Prelude," Gene Kelly's "Dancing in the Rain," Monet's delicate and light paintings. Art in any form is an expression of emotion. When it moves me, I am inspired to create on my own.
Describe yourself in three words.
Empathetic. Persistent. Energetic.
Tell us a fun fact about you.
I speak Russian fluently!
What does it mean to be a part of USC Kaufman?
Attending USC has been a dream of mine since I was 14. It is an honor to be learning from a world-class faculty and alongside a group of inspiring and talented dancers. I can't wait to start my four-year journey at USC Kaufman.