Travon Carter (he/him)
Winston Salem, NC
BFA Class of 2026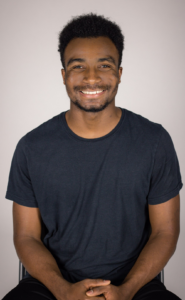 Where did you train?
I trained at Dancers Edge and Edge Performing Arts.
What inspires you?
My peers inspire me the most because when I see them reach one of their goals it keeps me from giving up on one of mine. It shows that it takes time but is possible and will be worth it.
Describe yourself in three words.
Funny, Honest, Helpful.
Tell us a fun fact about you.
Before I started dancing I played football and lacrosse.
What does it mean to be a part of USC Kaufman?
I'm still in a state of shock. I only started dancing four years ago, so to achieve this huge goal of mine has meant so much and shows that the work is paying off. Being able to be in a room with like-minded people for the next four years is going to be amazing, and I just can't wait to start!