Valerie Chen (she/her)
Irvine, CA
BFA Class of 2024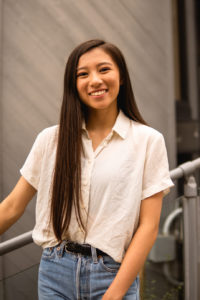 Where did you train?
I trained at Westside Dance Project and Dmitri Kulev Classical Ballet Academy. I also attended Orange County School of the Arts in the Commercial Dance Conservatory.
What inspires you?
I am inspired by my family. As an only child, my parents have shown me the value of a hard work ethic while spreading positivity and fighting for what's right. Their compassion and generosity gives me the strength to continue to pursue my passion. I would consider many of my friends to also be my family. With their drive and personal spirit, I become inspired by watching my peers work and create.
Describe yourself in three words.
Loyal. Introverted. Hopeful.
Tell us a fun fact about you.
I can crochet and I can make almost anything your heart desires.
What does it mean to be a part of USC Kaufman?
Being a part of USC Kaufman is such an amazing opportunity that I never thought I would achieve. I am excited, over the course of my four years, to be able to dance along with and learn from the dancers and teachers at USC Kaufman. I know that I will be able to form lifelong connections with the people I meet.