USC Kaufman celebrates 50 years of Hip Hop
September 13, 2023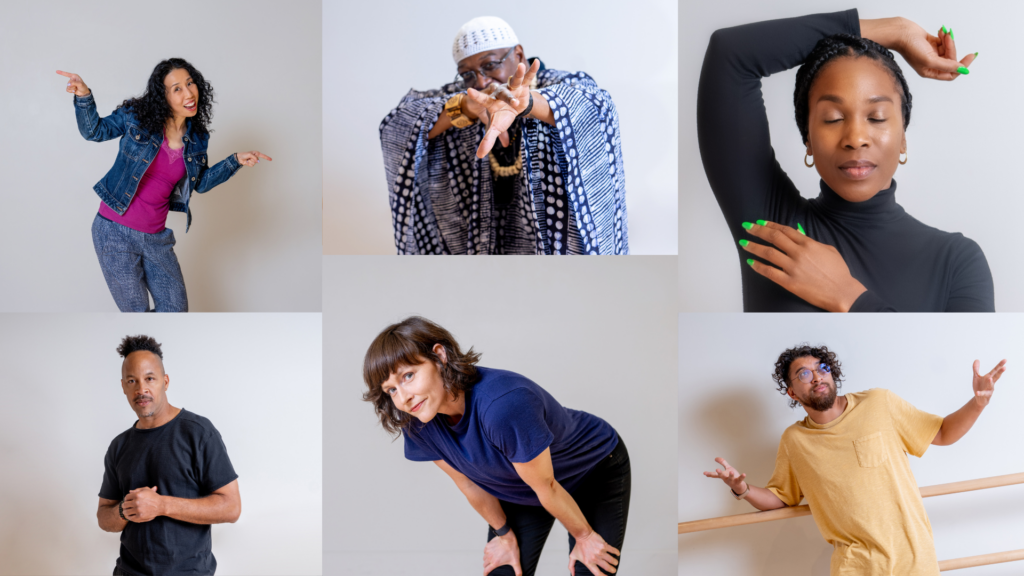 A three-event festival in September and October sponsored by the USC Kaufman School of Dance and USC Visions and Voices will mark a half-century of the global phenomenon that is Hip Hop.
Performances, a panel on Hip Hop dance scholarship, a block party in McCarthy Quad and conversations on street dance community activism will take place variously on Sept. 20 and 30 and Oct. 4. (Full schedule here.)
Hip Hop dates to an Aug. 11, 1973 party at 1520 Sedgwick Avenue in the Bronx. It was a back to school party organized by Cindy Campbell, now considered the first Hip Hop promoter, and the DJ was her brother, Kool Herc. Kool Herc realized that young people were more inspired to move during the instrumental parts and percussion breaks of songs, so he blended those parts of different records together to extend their dance time. The movement that grew from that influential party Is now having half-century celebrations worldwide.
USC's three part celebration will draw on the wealth of Hip Hop practitioners and scholars teaching at USC Kaufman. The school has included Hip Hop dance in its curriculum since its founding. Classes in Hip Hop are mandatory in the BFA program, and the school is believed to have the largest contingent of Hip Hop faculty in the nation. There are six faculty members who regularly teach aspects of Hip Hop dance and culture, and a few others who occasionally do.
The six, listed alphabetically, were asked about their first exposure to Hip Hop and the significance of Hip Hop culture, the festival, and the 50-year anniversary.
Tiffany Bong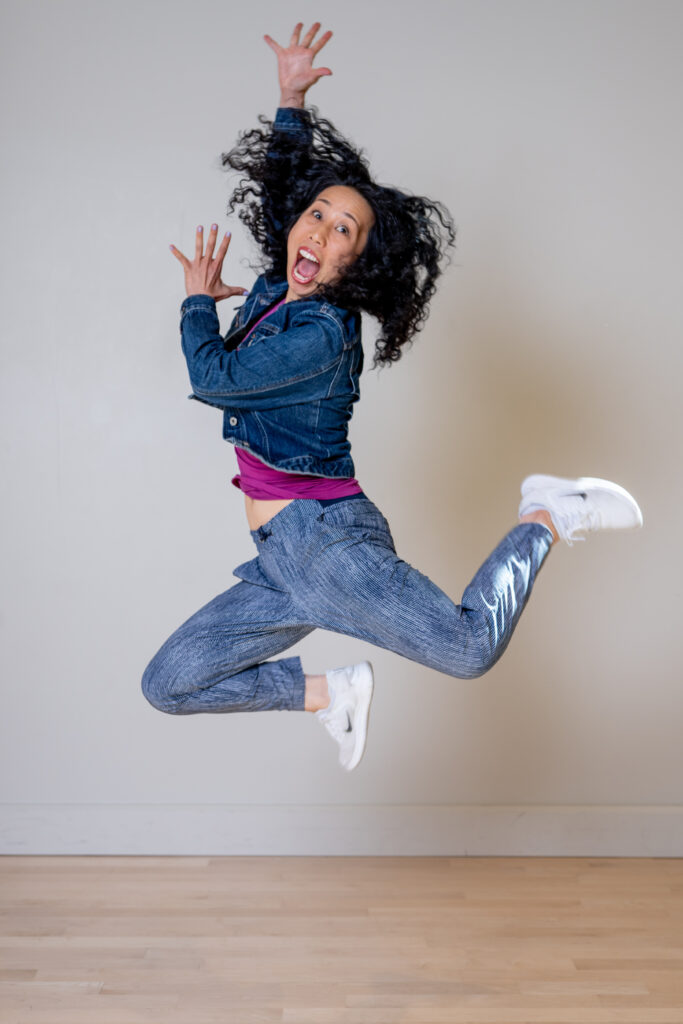 Teaches: Locking & Whacking, a technique class for BFA students; a GE class, Intro to Dance as an Art Form; will teach a new GE class, Hip Hop, Spirituality, and Social Change, in Spring 2024; heads Kaufman Connections – Hip Hop, a K-12 community engagement program; founded and directed Kaufman's biennial Hip Hop dance education conference, Cypher Summit.
First exposure to Hip Hop: At 11 years old in the sixth grade, a dance assembly came to my school and I heard and saw Hip Hop music and dance. I was sitting in the second to last row, and it's like an arrow went from the stage to my heart. Life went from black and white to color. That weekend I bought my first bootleg cassette tapes on the corner of my dad's store in Chinatown. There were two and I played them nonstop in my bedroom and danced my heart out.
Growing up, there was a Bay Area crew called Mindtricks (later became the group Jabbawockeez) who used to freestyle and cypher at the local bars and clubs, and I'd go watch them. I remember driving one hour just to be there.
Significance of Hip Hop: The culture was created by kids and continues to unite, liberate and empower people of all ages and backgrounds – particularly those that aren't seen or supported. It's a story of hope, resilience and freedom birthed from Black beauty and power. Celebrating Hip Hop's 50th is celebrating Black people and centering their contributions to American and global history.
e. Moncell Durden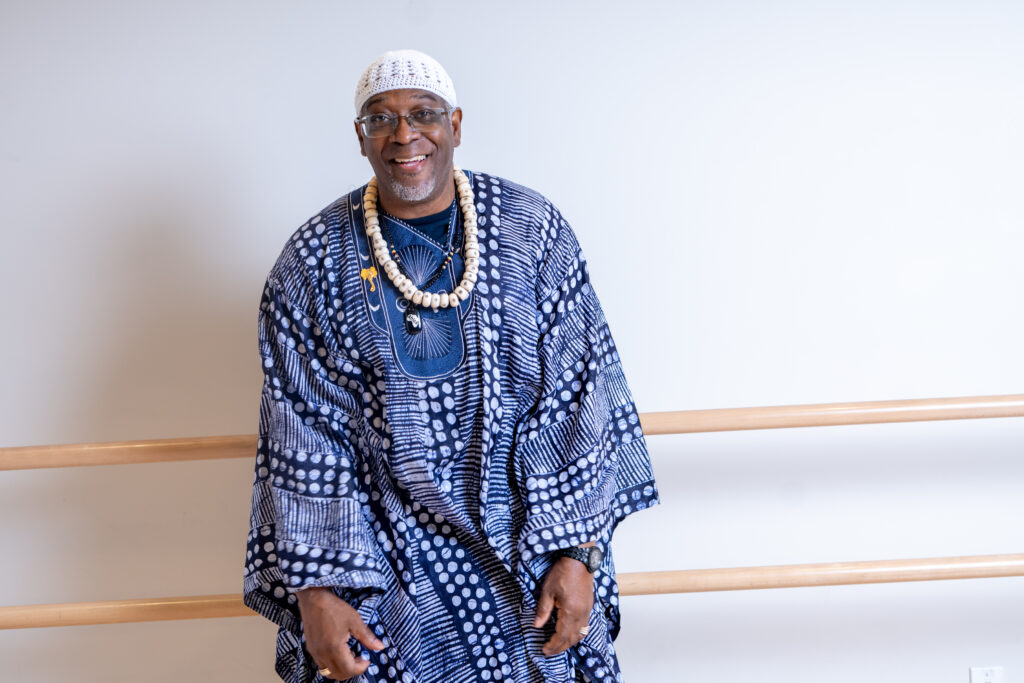 Teaches: House Dance (built off Hip Hop and party dance) for dance majors; Hip Hop dance as an elective class. His 16-page article, "Connecting Hip Hop History and Heritage" is in the recently published Oxford Handbook of Hip Hop Dance.
First exposure to Hip Hop: I've been dancing my entire life. It was part of my experience growing up in Black communities. Everybody from 2 to 82 danced. My mom and dad were social dancers, doing the popular dances of the 50s and 60s.My father played the vibraphone, piano, sax, flute and congas, and before I could crawl, he took the toys off my bassinet and hooked up speakers to play classical music and jazz. That love of music got me into movement.
Despite living in Pennsylvania, I was aware of locking and popping, West coast moves, at age 8, due to the TV shows Soul Train and What's Happening, which featured the character Rerun played by Fred Berry, one of the original members of the dance group The Lockers. When I was 14, a friend went to New York City, learned breakdance moves, and came back and taught me.
My mom taught me to roller skate. At the rink on Saturdays, you would skate until midnight, then take off your skates and dance from 12 to 2 a.m. People were popping and doing other dances.
Significance of Hip Hop: I try to ground people in the African aesthetics of the movement. And I include a mix of dances that are popular for the current Hip Hop music, like Litefeet dances out of Harlem, NY, including the Tone-Wop, the Bad One, the Rev Up. There's a bunch of dances, and it's hard to keep up. We keep up with YouTube, TikTok, Instagram and our students, because let's face it, this is their time and their generation. What we have to offer them is showing how the current dances connect to older ones, and how those dances connect to jazz dances and even African dances.
Nina Flagg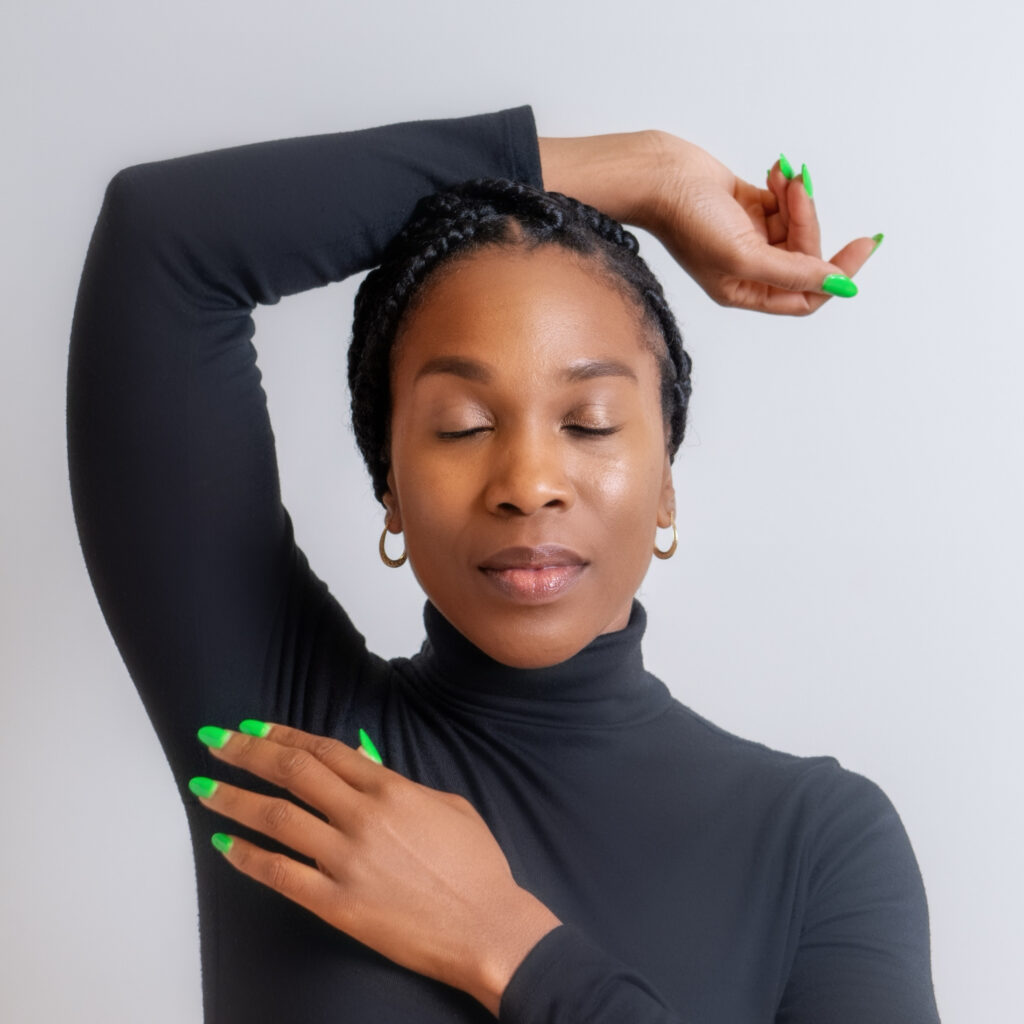 Teaches: Intro to Hip Hop Dance, an elective for non-majors; Dancehall (Caribbean social dance) for BFA majors.
First exposure to Hip Hop: The L.A. native was about 6 or 7 when she became curious about it. The daughter of a dancer, she began with gymnastics, ballet and contemporary dance. The first Hip Hop artists she remembers were Queen Latifah and Heavy D & the Boyz, but through her father and an older brother, started hearing rap and Hip Hop on the legendary radio station 93.5 KDAY and listening to the political messages from artists like Public Enemy and KRS-One. Although she still was studying ballet and modern dance, by junior high, she had become a Hip Hop practitioner, performing in talent shows, doing freestyle rhymes, making up dance routines, and designing outfits.
Significance of Hip Hop: People often think they're attracted to the signifiers of Hip Hop culture. They believe if they dress, talk, or dance a certain way, they're tapping into Hip Hop culture. But the true point of attraction is the energy. The raw, unapologetic energy of the Black and Brown youth who birthed the culture. The voice of the unseen, unheard and unrecognized, so brilliantly telling their truth. It is that truth that set them free … and that freedom became a technique for the world to study.
d. Sabela grimes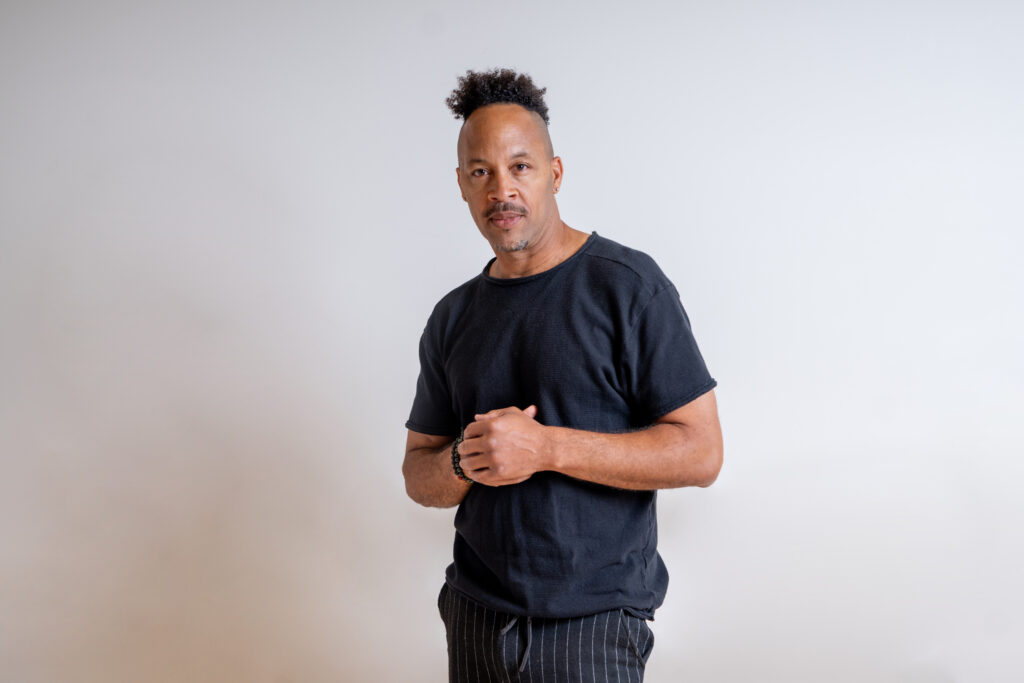 Teaches: Technique class for BFA students using Funkamental MediKinetics, a movement system he developed; a Choreography and Performance class; an Improvisation and Composition class; will teach a course on fashion and movement in 2024.
First exposure to Hip Hop: My initial encounter with Hip Hop dance took place during my school years in Lompoc, CA. I was introduced to a range of Black dances that are now classified as Hip Hop dances. The presence of Black individuals from different parts of the country, brought together at the U.S. Air Force base in Lompoc, contributed to a rich and diverse blend of Black cultural traditions. Many of these practices were not commonly depicted on television. (Later, grimes worked with Rennie Harris Puremovement in Philadelphia, a storied street dance theater now celebrating its 30th year.)
Significance of the festival: It's really a continuum of the work that's been done by everyone teaching Hip Hop at the Glorya Kaufman School of dance since day one. We get to offer the fullness of the culture. Hip Hop is a community-driven culture that produces varied systems of intelligence that are more than the simple product of moves. The Leimert Park neighborhood in Los Angeles is a community which continues to be a generative wellspring of Black cultural knowledge, and anything significant about L.A. and my Hip Hop journey definitely includes Leimert Park.
Amy O'Neal
Teaches: Hip Hop studio class for 4th year BFA students; hybrid Hip Hop contemporary for first and second-year BFA students; beginning Hip Hop and beginning contemporary for non-majors; composition for majors; a lecture class, Hip Hop Don't Stop: Black Social Dance Culture and Media. Facilitates a public event each semester, Cypher Celebration, where BFA students cypher, which is improvisation inside of a circle that is a foundation of Hip Hop and Black social dance culture.
First exposure to Hip Hop: Probably through MTV or the radio, when I was living in Texas from third through sixth grade. Popular dances of that time were The Running Man, The Roger Rabbit, The Party Machine, The Wop, The Cabbage Patch, The Alf. While living in Ankara, Turkey 1989-1991 (her dad was in the Air Force), she went to school with kids from all over the U.S. and world. Remembers doing The Electric Slide to Kwamé and a New Beginning and their song, Ownlee Eue, at school dances and birthday parties. While taking ballet and studio jazz classes, she was also going to clubs where the influences were global, including reggae, pop, electronic music, and Hip Hop. "The social aspect of being together and finding a shared movement language was really important."
Significance of Hip Hop: American culture would not be what it is without it. There are multiple movement languages that come out of Hip Hop. It exists in so many places in the world. And it's a political movement, first and foremost. It continues to serve as a structure for cultures around the world to find their voice, and comes out of a long lineage of Black social dance practices. There's a very deep respect for history and for elders and being part of something that's bigger than you. As a White person, I am a guest practitioner of the culture. I wouldn't be the person I am without having built and continuing to build trust and relationships with people over time so I can be in those spaces. You have to earn it.
Danté Rose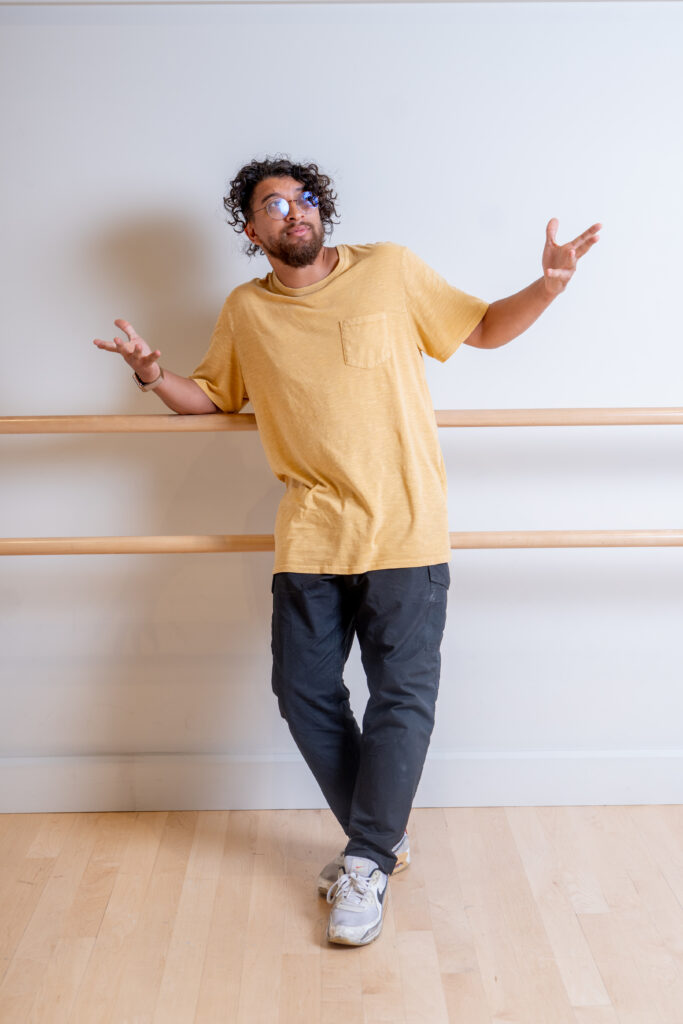 Teaches: An elective studio course on Hip Hop dance; Hip Hop Don't Stop lecture course.
First exposure to Hip Hop: I was probably cognizant of it when I was 4 or 5 years old, although I had already been dancing to my grandmother's rock and roll records, when I was 3. My grandmother's favorite story to tell was me pounding on her bedroom door so I could come in and dance to her music. I saw Hip Hop dance on award shows and music videos, and I remember my family playing the music of Snoop Dog and Ice Cube. When I was about 10, I vividly remember seeing break dancing – a flare to windmill – maybe on a McDonald's commercial and thinking it was so cool. When I was 15, in Houston, Texas, I got with a group of guys and started doing Hip Hop and House dancing every day to improve.
Significance of the anniversary: Hip Hop is a Black youth culture. That's one reason people are surprised it's 50 years old. It's constantly updating and reviving itself to resonate with the youth. One discourse right now is around the roots and definition of Hip Hop — if Hip Hop is generally Black American youth culture or must it have its foundation in New York. This comes up with new and regional forms of dance, like Turfing, Chicago Footwork, Krumping, Memphis Jookin and other subcultures. Of course there's disagreement about what it is and can be. The next generation wants to add their voice to the conversation but it's hard to do that when you don't have the context of the conversation. Traditionalists want to define what Hip Hop is, but it's hard to do that with a cultural movement. It's hard to articulate culture.
---
By Allison Engel